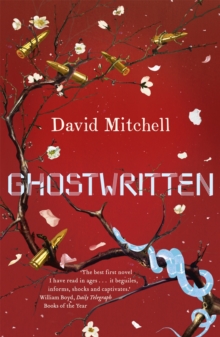 Description
Winner of the Mail on Sunday/John Llewellyn Rhys Prize.A magnificent achievement and an engrossing experience, David Mitchell's first novel announced the arrival of one of the most exciting writers of the twenty-first century.
An apocalyptic cult member carries out a gas attack on a rush-hour metro, but what links him to a jazz buff in downtown Tokyo? Or to a Mongolian gangster, a woman on a holy mountain who talks to a tree, and a late night New York DJ?Set at the fugitive edges of Asia and Europe, Ghostwritten weaves together a host of characters, their interconnected destinies determined by the inescapable forces of cause and effect.
Information
Format: Paperback
Pages: 448 pages, None
Publisher: Hodder & Stoughton General Division
Publication Date: 20/04/2000
ISBN: 9780340739754
Other Formats
Paperback from £8.85
EPUB from £5.99
CD-Audio from £17.95
Free Home Delivery
on all orders
Pick up orders
from local bookshops
Reviews
Showing 1 - 5 of 11 reviews.
Previous | Next
Review by dylanwolf
16/06/2015
Sometimes a debut novel, especially when it is as astonishing and experimental as this, is the best work an author ever produces. In my opinion this might yet be true of David Mitchell. I prefer Ghostwritten to Cloud Atlas and I've shied away from numberninedream. I love the disparate voices and styles of these loosely tied together chapters, especially Night Train and the episode in Mongolia. It's a pleasure to be led and I do think that these pieces hang together to form a coherent and satisfying novel. Does this book grant us permission to call Dubliners, Joyce's jewelled collection of short stories, a novel?
Review by alzo
16/06/2015
3.5 stars. The first few stories were very enjoyable however I couldn't really see where the book was taking me, though the final part of the book was enjoyable and tied it up nicely. I just felt that Mitchell could have restrained himself to the story a little more. At times I felt the style was taking over from the substance a little – Mitchell seemed to feel the need to showcase his fantastic versatility. Overall though a very enjoyable and thought-provoking read – the themes much the same as Cloud Atlas but not quite as good in my opinion.
Review by wordwench
16/06/2015
It is easy to see reading this, where the magnificent Cloud Atlas came from. The layout is similar in that it takes individual stories and overlaps them in a subtle manner.Really great characters, interesting stories and it had me gripped from beginning to end. Testament to the genius of David Mitchell.
Review by queen_evie
16/06/2015
I didn't realise it, but this is sort of a prequel to Cloud Altas, from what I can tell - featuring a few of the same characters and actually the same sequence of events that is implied between the lines of Cloud Atlas. At any rate, it stands on it's own as a brilliant novel, particularly because it's his debut. I was thoroughly impressed although I didn't think the characters and voices were as well-realised and articulated as in CA. But that makes sense. The story itself is clever, fast-paced, and well thought-out... Mitchell gives himself lots of room to move as a writer, having one of the characters as a spirit that moves from person to person, inhabiting their minds. I just think it was captivating, quite raw, and eye-opening, overall. Brilliant, as expected of Mitchell.
Review by cestovatela
16/06/2015
David Mitchell is a writer who challenges me and I mean that in the best way possible. His books are interconnected short stories more than they are novels. Each story takes in different settings, genres and characters and each one has something important to share. <i>Ghostwritten</i> is not quite as masterful as Mitchell's most famous work <i>Cloud Atlas</i> but I'm still very glad I read it. He excels at getting into the heads of complex and unusual characters. Often his settings are so vivid and atmospheric that they're like another character in the novel. I savored images like "getting drunk on opals" and ideas like "the world is made of stories, not people." The book grapples with mysteries of the human condition like destiny, character, free will and how to choose the right principles to guide you through an uncertain world. Sometimes the characters are a little too theatrical. Sometimes the metaphysics and the symbolism is too heavy handed. But this book grasps essential truths of living: "laws help you hack through the jungle, but no law changes the fact that you are in the jungle." That's what makes it worth reading in spite of its flaws.