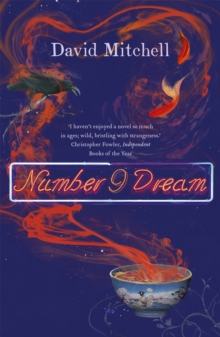 Description
Shortlisted for the Booker Prize 2001The second novel from the critically-acclaimed author of GHOSTWRITTEN and CLOUD ATLAS.As Eiji Miyake's twentieth birthday nears, he arrives in Tokyo with a mission - to locate the father he has never met.
So begins a search that takes him into the seething city's underworld, its lost property offices and video arcades, and on a journey that zigzags from reality to the realm of dreams.
But until Eiji has fallen in love and exorcised his childhood demons, the belonging he craves will remain, tantalizingly, just beyond his grasp.
Information
Format: Paperback
Pages: 432 pages, None
Publisher: Hodder & Stoughton General Division
Publication Date: 29/09/2001
ISBN: 9780340747971
Free Home Delivery
on all orders
Pick up orders
from local bookshops
Reviews
Showing 1 - 5 of 7 reviews.
Previous | Next
Review by edgeworth
16/06/2015
I like the idea that an author's personal travels are reflected in their writing. You can know nothing about Hemingway's life and still know, from reading his stories, that he travelled to continental Europe, East Africa, the Caribbean and the upper Midwest – and apparently nowhere else. Similarly, David Mitchell's novels are largely focused on East Asia, as he spent nearly a decade working in Japan as an English teacher. On the other end of the spectrum is Stephen King, who sets virtually everything in his home state. I hope that my own works one day reveal a rich history of globetrotting.Number9dream, Mitchell's second novel, takes place entirely in Japan as 19-year old Eiji Miyake travels from his sleepy island home to seek out his long-lost father in Tokyo. This is one of those time-honoured stories about a young man hitting the road with nothing but a guitar case and ten bucks in his pocket, taking a series of crummy jobs and sleeping in a tiny rented room, gradually networking his way through the grand adventure that is life, making friends and falling in love. These stories are always overly romanticised, but I'm a young man myself and I'd be lying if I said they don't appeal to me.This novel is something more than that, fortunately, because it is written by David Mitchell, a god among men. Number9dream takes us on a beautifully evocative tour of the gigantic, incomprehensible sweep of Tokyo, the subways and teahouses and love hotels and construction sites, the hackers and gangsters and lawyers and pizza delivery boys. Not only that, but this is a book about dreams and fantasies, the power of the imagination, and Mitchell mixes this in to make a dazzling, fantastic narrative where what is real and what is not are not always distinct.There are other stories mixed in as Eiji navigates his way through Tokyo. Memories of his childhood on an idyllic island, which reminded me strongly of both a Miyazaki film and Final Fantasy X (with a sports team taking a ferry to another island for a tournament, come on). Bizarre and poetic stories featuring a fairytale character called Goatwriter, perused by Eiji as he sits in an attic. The journal of his great-uncle, a kaiten pilot in World War II. It's not as pronounced as in Ghostwritten or Cloud Atlas, but Mitchell's talent for voices emerges once again. There are also, as always, some nice links with his other works, in this case a character and a secret government facility from Ghostwritten.The only problem I had with this book was the story thread in which Eiji falls in with the Yakuza, which I thought was unrealistic, even for a Mitchell novel. Mitchell likes to push all our buttons at once. He wants to write profound literary fiction dripping with beautiful prose, he wants to write about slice-of-life journeys of discovery, and he wants to write about Yakuza gunfights and satellite weapons and post-apocalyptic wastelands. In novels like Ghostwritten and Cloud Atlas, consisting of distinct narratives where these conflicting urges can be safely filed away in separate drawers, this works a charm. In Number9dream, not so much. Eiji goes from spending an evening with a Yakuza grandmaster, watching men get gunned down and cars explode as though he's a character in Grand Theft Auto, to sitting in his apartment on a hot summer night ruminating on the mysteries of life with his girlfriend. The Yakuza chapters are brilliant, they just don't fit with the rest of the book at all. Similarly, I found the Goatwriter stories to be tedious, and the great-uncle's WWII journal to be surprisingly mediocre for such a rich opportunity.On the whole, Number9dream was better than Ghostwritten, but not quite as good as Cloud Atlas or Black Swan Green. It's still an amazing, awesome trip through a fascinating world with a gifted author as a guide, always readable, always intriguing, every page covered with beautiful sentences and paragraphs. I discovered David Mitchell at the beginning of this year, reading Cloud Atlas in Japan; now, on the last day of the year, I've finished reading his collected works and he has become my favourite author. How appropriately cyclical. Happy New Year!P.S. Reading a few other reviews I've come across the notion that Mitchell is "looting" from Haruki Murakami. While this book clearly owes a debt to the tone and themes of Murakami's works, David Mitchell is one of the greatest writers of his generation, whereas Haruki Murakami is one of the worst. Point, match, Britain.
Review by Rynooo
16/06/2015
Readable as ever, though less compelling than Mitchell's other works and littered with ambiguity and lacking resolution. I found the interplay between dream sequences and real-world narrative irritating at first, and though the differences become more obvious as the tale unfolds, the line between fantasy and reality is decidedly blurry. That said, it's an unashamed tribute to Murakami (there's even a reference to the relationship between the songs Norwegian Wood and #9dream), allusive magical realism being one of his trademarks. Mitchell has nailed Murakami's style. I just wish he'd included more of his own.
Review by clfisha
16/06/2015
19 year old Eiji Miyake has left his small isolated island for Tokyo, to search for a father he has never met. Split into 9 chapters, each one different, and told in 1st person we follow Eiji through his past, his fantasies and of course reality...The fun, hiccupping start to this novel left me joyfully wallowing in uncertainty. This novel could go anywhere, do anything and for one dizzying moment could be any genre. The characters and plot flow deliciously between mundane reality and movie outrageousness. In this tale facts can be slippery things and to be honest I can't wait for a reread as I devoured this novel so quickly.Mitchell has created a wonderfully deep character in daydreaming Eiji, we follow Eiji at so many levels (dreams, reminiscences even his reading material) it's almost like reading in 3D and as the story grows, so does the reader's understanding and attachment. The emotional impact of this story is strong: a lynchpin to the chaos.Sadly this organised chaos didn't always work: a children's story inserted late in the book was quite frankly dire. Meta fiction it may have been but I hated the style, story, characters and interruption of pacing. Although this didn't lower its overall mark because I am ridiculously happy to read this book.You may hate the uncertainty, the small interruptions, the ending (oh my what an ending!) or even find parts too violent or too raunchy but it's definately a novel worth trying: it's fun, it's different, an 'emotional roller coaster' I believe is the cliché to use here.. and it's great for a bit of post reading discussion :)
Review by HeikeM
16/06/2015
This is the book that might change my reading habits - it is so intense and beautiful, so full of changing stories and dreams, so lyrical and poetic, something so awe inspiring that I might have to stop reading lesser authors. It is a very *dense* book - I needed 5 instead of my usual 2 days for this novel - wanted to read slowly so not to miss a single word. It starts as a quest for a lost father and ends up being so much more: coming of age, search for the *you*, starting a fresh life away from everything you know, coming to terms with your past. On top of that we encounter incredible violence, beautiful magical dreamlike sequences, fantasy, twists and turns that seem to be stories bound together by the main characters quest. And that is the main feeling here - different and wonderful short stories, woven together by a narrative, spinning an ethereal, delicate tale of loss and gain, love and hate, life and death. Strange ending though - very unexpected, a little bit out of kilter after all that. Brilliant!
Review by kaylol
16/06/2015
Fantasies extracts from a story and from a diary seemed to kind of get in the way of me enjoying the story. But you might see those bits as what makes the book good.