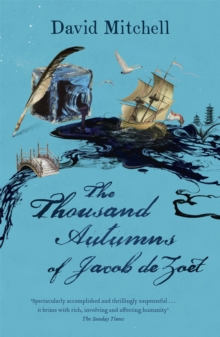 The Thousand Autumns of Jacob De Zoet
Paperback
Description
The Sunday Times Number One Bestseller, from the author of CLOUD ATLAS and THE BONE CLOCKS.Longlisted for the Man Booker Prize 2010In your hands is a place like no other: a tiny, man-made island in the bay of Nagasaki, for two hundred years the sole gateway between Japan and the West.
Here, in the dying days of the 18th century, a young Dutch clerk arrives to make his fortune.
Instead he loses his heart.Step onto the streets of Dejima and mingle with scheming traders, spies, interpreters, servants and concubines as two cultures converge.
In a tale of integrity and corruption, passion and power, the key is control - of riches and minds, and over death itself.
Information
Format: Paperback
Pages: 560 pages, 7 B&W
Publisher: Hodder & Stoughton General Division
Publication Date: 01/03/2011
ISBN: 9780340921586
Other Formats
EPUB from £5.99
CD-Audio from £16.95
Free Home Delivery
on all orders
Pick up orders
from local bookshops
Reviews
Showing 1 - 3 of 3 reviews.
Review by roblong
16/06/2015
I'm a dissenting view on this one, I'm afraid. Gave Mitchell another try after not thinking much of Cloud Atlas, and I think it'll be a while before I try him again. While I thought Cloud Atlas was all style and no substance, this forgoes the style and is flimsily and unconvincingly written (at one point the character thinks of himself as 'Jacob de Bonehead' - the thoughts of an 18th century Dutchman, really?), and constantly spoonfeeds the reader in incredibly irritating fashion. It is full of action, which is a problem: no time is given to go into the characters' interior lives in enough depth for them to become interesting, so it's hard to care about much of what happens to them - Jacob de Zoet in particular is a bland character who I found it impossible to get behind. A case in point - when Jacob is trying to get a friend of his to introduce him to the Japanese woman he has fallen in love with, who has a badly burned, scarred face, the friend mocks him for being a sappy imperial type who just wants to rescue the poor stricken maiden with his intensely patronising affection - and this is, for the next 500 pages, all he is, inasmuch as he is anything. The love story that could develop drowns in a not-very-interesting Dutch corruption story and a standoff with the British that both take up far too much time, and the whole thing is pretty unengaging. Frustratingly, the last few lines of the book were nicely done, and could have been the end of a very moving story - there just wasn't one ahead of them. There isn't much of anything, really, except an exotic setting and a different time to our own.
Review by PennyAnne
16/06/2015
I found it hard to know what to make of this book. The historical setting (a Dutch trading post off Nagasaki at the end of the 18th century) was very interesting to me and the historical details were very well realised. The book is beautifully written and the language is a delight. I particularly enjoyed the extended description towards the end of the book which is written in such a way that it becomes a poem. On the other hand, I did not like the way the author gave us the backstory of one of the characters - an old woman is sitting at her fireplace and tells the story to her dog who has heard it before but won't mind hearing it again - I found that very clumsy and quite laughable. The book is broken into three distinct parts, all linked by the character of Jacob de Zoet - some parts work better than others - the gothic horror story which forms the kernel of part two seems a bit too farfetched. I was impressed that the book had a feeling of real life to it - there are no happy endings - unrequited love remains unrequited. Read this book if you like fine historical detail and beautiful language.
Review by passion4reading
16/06/2015
This novel tells the story of the Dutch trading out-post of Dejima in Nagasaki at the turn of the 19th century, when this was Europe's only contact with Japan. It follows the fate of shipping clerk Jacob de Zoet and allows the reader to share his thoughts, bewilderment, amazement and anxieties when faced with its alien and often hostile race and culture, and through him learns to love and respect the people in it.The title of the book alludes to one of Japan's native poetical names, "The Land of a Thousand Autumns"; it describes life in the Dutch enclave in great detail, and shows how Jacob falls in love with Orito Aibagawa, a midwife. As their love is forbidden, she is banished to a monastery, and from then on the narration follows Jacob and Orito's fates separately. The first half of the book is slow, some critics might even say too slow, but then it gathers pace and ends with a real bang. It is in turns moving, funny, suspenseful and tragic, peopled with a wonderful cast of characters that just leap off the page. David Mitchell's writing is a dream: his prose crisp and precise yet eloquent, poetic and playful at the same time.This novel might not be to everyone's liking, but I loved it.