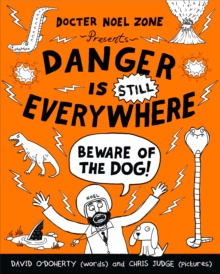 Danger is Still Everywhere: Beware of the Dog (Danger is Everywhere book 2)
Paperback / softback
Description
DANGER is STILL EVERYWHERE: Beware of the Dog!Will Docter Noel Zone's second book tell you how to combat a CROCUUM*?
YESAnd reveal the secrets of the world's greatest (and only) Dangerologist?
THAT TOOHas he written it yet? NOIs it because he's hiding in a wardrobe? MAYBEDocter Noel is facing his most terrifying situation EVER - a little dog called Napkin has come to stay.
That may not sound particularly dangerous, but every POD (Pupil of Dangerology) knows the only safe pet is a pet rock.
So now Docter Noel is hiding in a wardrobe while Napkin wreaks havoc around the Dangerzone. And all the while Docter Noel is supposed to be writing his new VERY IMPORTANT handbook on Dangerology (Level 2). That is until the Pet of the Year (POTY) contest is announced and Docter Noel hatches a plan.
There's only one problem. Serial safety-flouter Max WURST is the judge. . . For Docter Noel, it's never been clearer that DANGER IS STILL EVERYWHERE*A crocodile that looks like a vacuum cleaner that lives under the stairs. Diary of a Wimpy Kid meets The Dangerous Book for Boys, DANGER is STILL EVERYWHERE is the second brilliantly funny handbook for avoiding danger of all kinds that will have everyone from reluctant readers to bookworms laughing out loud (very safely) from start to finish. Praise for DANGER IS EVERYWHERE:'I dislocated my jaw laughing' Eoin Colfer, author of Artemis Fowl'A brilliantly silly survival guide' Sunday Express'A Joyful riposte to over-cautious parents . . . well-paced and funny throughout.' Time Out London'Imagine the Mighty Boosh crashed into the Wimpy Kid' The Times'A surreal, daft and funny book . . . A bracing satirical sideswipe at today's health-and-safety culture, aimed at kids who'll get the irony and relish the silliness.' Financial Times'Brilliantly funny' Gransnet'A brilliantly mapcap guide' ni4Kids.com'Laugh-out-loud' TheSchoolRun.comcom
Information
Format: Paperback / softback
Pages: 224 pages
Publisher: Penguin Random House Children's UK
Publication Date: 29/07/2015
Category: Humorous
ISBN: 9780141359205
Also in the Danger Is Everywhere series | View all