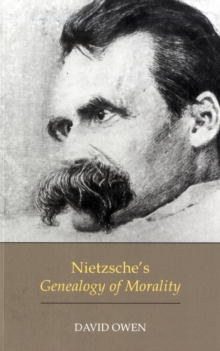 Nietzsche's Genealogy of Morality
Paperback / softback
Description
A landmark work of western philosophy, "On the Genealogy of Morality" is a dazzling and brilliantly incisive attack on European "morality".
Combining philosophical acuity with psychological insight in prose of remarkable rhetorical power, Nietzsche takes up the task of offering us reasons to engage in a re-evaluation of our values.
In this book, David Owen offers a reflective and insightful analysis of Nietzsche's text.
He provides an account of how Nietzsche comes to the project of the re-evaluation of values; he shows how the development of Nietzsche's understanding of the requirements of this project lead him to acknowledge the need for the kind of investigation of "morality" that he terms "genealogy"; he elucidates the general structure and substantive arguments of Nietzsche's text, accounting for the rhetorical form of these arguments, and he debates the character of genealogy (as exemplified by Nietzsche's "Genealogy") as a form of critical enquiry.
Owen argues that there is a specific development of Nietzsche's work from his earlier "Daybreak" (1881) and that in "Genealogy of Morality", Nietzsche is developing a critique of modes of agency and that this constitutes the most fundamental aspect of his demand for a revaluation of values.
The book is a distinctive and significant contribution to our understanding of Nietzsche's great text.
Other Formats
EPUB from £26.09
PDF from £26.09
Hardback from £97.15
Free Home Delivery
on all orders
Pick up orders
from local bookshops