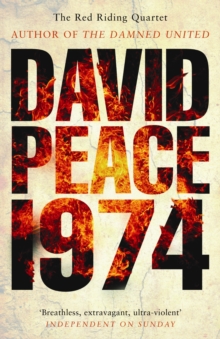 Red Riding Nineteen Seventy Four
Paperback
Description
Jeanette Garland, missing Castleford, July 1969. Susan Ridyard, missing Rochdale, March 1972. Claire Kemplay, missing Morley, since yesterday. Christmas bombs and Lord Lucan on the run, Leeds United and the Bay City Rollers, The Exorcist and It Ain't Half Hot Mum.
It's winter, 1974, Yorkshire, and Eddie Dunford's got the job he wanted - crime correspondent for the Yorkshire Evening Post.
He didn't know it was going to be a season in hell. A dead little girl with a swan's wings stitched into her back. In Nineteen Seventy Four, David Peace brings the passion and stylistic bravado of an Ellroy novel to this terrifyingly intense journey into a secret history of sexual obession and greed, and starts a highly acclaimed crime series that has redefined how the genre is approached.
Information
Format: Paperback
Pages: 304 pages
Publisher: Profile Books Ltd
Publication Date: 04/09/2008
Category: Crime & mystery
ISBN: 9781846687051
Free Home Delivery
on all orders
Pick up orders
from local bookshops
Reviews
Showing 1 - 3 of 3 reviews.
Review by yellowoasis
16/06/2015
A great read – raw, gritty, powerful stuff. I love the setting, which is the newsroom of a northern regional newspaper in 1974. There is just enough period detail included to let you know that this is then not now (but not in a self-conscious 'Life on Mars' sort of way). The style is very immediate, just right for this type of story. I can't wait to see the Channel 4 series.
Review by Fluffyblue
16/06/2015
After watching the television series based on Peace's Red Riding Quartet (twice), I felt that I really wanted to find out the story behind the screen. I really enjoyed 1974, told from the perspective of the journalist who discovers the facts behind a series of deaths and the consequences of his findings. The book is fast paced, well written and at times quite gruesome.
Review by AdonisGuilfoyle
16/06/2015
I hate to sound like I'm channelling Mary Whitehouse, but this is possibly the most unnecessarily violent and vulgar novel I have ever read. Seriously. The author drops the f-word like Tourette's in print form - over 500 instances, according to Kindle - and his hapless narrator rarely crawls out of the gutter. Somewhere amongst the brutal sex scenes, vicious beatings and obscene language, a young girl is abducted and murdered, but I lost track of whodunit and why. I think Peace was going for a Chandler-esque noir mystery, set in the grim north during the grimmer 1970s, only he forgot to add characters that the reader might care about and a decent standard of writing. Jake Arnott's <i>He Kills Coppers</i> is similar in style and content, but about 100 times better. Still, at least I didn't have to suffer for long, because most of the narrative is monosyllabic dialogue - I'll let you guess the syllable of choice - and easy to skim through.I'm now going to scour my Kindle clean of the ebook, and wish I could do the same for my brain.
Also in the The Red Riding Quartet series | View all