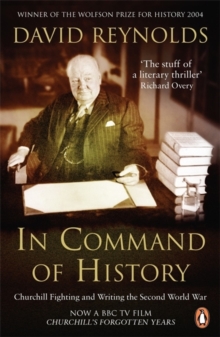 In Command of History : Churchill Fighting and Writing the Second World War
Paperback
Description
Churchill fought the war twice over - as Prime Minister and again as its premier historian.
In 1948-54 he published six volumes of memoirs which secured his reputation and shaped our understanding of the conflict to this day.
Using the drafts and correspondence for The Second World War, David Reynolds opens our eyes to Churchill the author and to the research 'syndicate' on whom he depended.
We see how the memoirs were censored by Whitehall to conceal secrets such as the codebreakers at Bletchley Park, and how Churchill himself censored them to avoid offending current world leaders.
This book forces us to reconsider much received wisdom about the war and illuminates an unjustly neglected period of his life - the Second Wilderness Years of 1945-51, when Churchill, now over seventy, wrote himself into history, politicked himself back into Downing Street and delivered some of the most important speeches of his career.
Information
Format: Paperback
Pages: 672 pages
Publisher: Penguin Books Ltd
Publication Date: 28/06/2005
Category: General & world history
ISBN: 9780141019642
Free Home Delivery
on all orders
Pick up orders
from local bookshops
Reviews
Showing 1 - 2 of 2 reviews.
Review by robeik
16/06/2015
The title of this book gives a great hint as to what this book is about - commanding history. This relates not only to history making in time time it is being made, but also history making when it comes to setting the record. And then again, it doesn't.The author provides an extremely detailed account of the writing of Winston Churchill monumental 6 volume work World War II. How does an author write the history when so many documents belong to the government, and when many are secret? How to make it worthwhile when the government threatens the tax almost all of the earnings? How to get the most out of book publishers and newspapers in many countries? How to get the work done when time is so short? How to fund holidays on the continent? And how, most importantly, how to make sure that the author comes out looking best?What comes out is now not a great secret: Churchill nearly manipulated the public service to work for him to get access to documents, but still managed to avoid (to his disadvantage) mentioning the Ultra Secret - Bletchley Park; he set up a trust; but still made a record amount of money from a publisher deal; he had a team of writers and researchers, but stressed deadlines to beyond the limit; he convinced the American publishers that a holiday in Europe or North Africa was needed to get stuck into the writing; and he fibbed a lot.The account is thorough - perhaps a bit too much, but then the story would be incomplete. The most interesting parts are where Reynolds analyses what Churchill 'wrote' and places it alongside the facts - and Churchill does not come out of it looking good. Yet, we know that we ended the war as a winner (despite loosing government) and this was strengthened by these books. Errors, conflicting accounts, and threats of lawsuits did not get in the way of a very popular book.However, Churchill is still treated with respect. And allowances are made for the fact that he was operating in a climate of the Cold War, in which the Russians could not come out looking too good, but yet still not upset too much. And Churchill also had an electorate to whoo - he twice attempted a return as Prime Minister, the second time successfully.I suggest reading this book only after reading Churchill's volumes.
Review by MiaCulpa
16/06/2015
"In command of history" is the type of magisterial work that Churchill would have been proud to have his name on. It is clear that Reynolds has completed an enormous amount of research to write this book and one would be hard pressed to find someone with greater knowledge of Churchill and his life.This knowledge and the resulting indepth recording of it in print is ultimately the reason why this doesn't receive five stars. There were perhaps too many cases where he includes small, irrelevent details as if to show how much research he has undertaken, but instead gets the reader bogged down in details.Also evident is the post-event rewriting of history that Churchill and others (including Mountbatten's reworking of his disastrous Dieppe Raid) participate in. Having said that, I did like Churchill's handling of the Fall of Singapore and his ambiguious acceptance of the blame for it.Well worth a read, whether you're a WWII buff or just someone who wants to understand the major event of the last century and one of its key players.