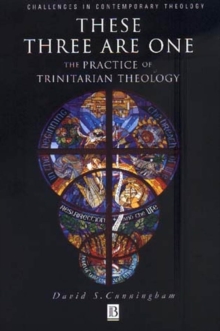 These Three are One : The Practice of Trinitarian Theology
Paperback / softback
Description
The doctrine of the Trinity has recently been rescued from relative obscurity in Christian theology, but its profound implications have not yet been fully realized.
In "These Three are One", David Cunningham articulates a Trinitarian perspective that challenges a wide range of modern assumptions about God and the created order.
Cunningham seeks to rehabilitate the Augustinian tradition of locating the 'triune marks' left upon the world by its Creator.
He explores ancient rhetoric, communication theory, and literature - as well as more traditional theological sources - in order to illuminate not only the Christian doctrine of God, but also its radical critique of contemporary culture.
According to Cunningham, Trinitarian theology challenges many of our most cherished practices, including our craving for violence, our neglect of children, and our misguided quest for homogeneity.
His book confounds the popular notion that the doctrine of the Trinity is esoteric and irrelevant; on the contrary, it shows it to be at the very heart of Christian life and thought.
Information
Format: Paperback / softback
Pages: 388 pages
Publisher: John Wiley and Sons Ltd
Publication Date: 22/11/1997
Category: Nature & existence of God
ISBN: 9781557869630
Also in the Challenges in Contemporary Theology series | View all