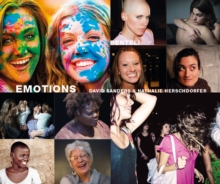 Description
Emotions are at the core of human actions - joy, desire and pride motivate us, fear and mourning thwart us, surprise and wonderment unsettle us, while love, anger and disgust shape our very being and society in a sustained way.
The Swiss Center for Affective Sciences, the world's largest interdisciplinary research center on emotions, studied these ten emotions from various aspects.
For example, how is love related to economy, surprise to music, joy to creative art, and grief to psychology, neurosciences, philosophy, literature and cinema? Roughly a third of the book features the social arena of these emotions, showing people who have to cope with them in the photographs of contemporary artists.
People in groups and individually, in public or private spaces - motivated or unsettled, left alone with their emotions or jointly living them out.
Readers are confronted with the great variety of our emotional worlds, scientific, visual and of course always filled with intense feelings!
Information
Format:Hardback
Pages:272 pages, Illustrated in colour and black and white throughout
Publisher:Benteli Verlag
Publication Date:15/06/2017
Category:
ISBN:9783716518212