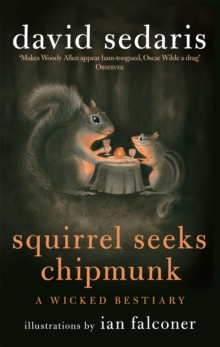 Squirrel Seeks Chipmunk : A Wicked Bestiary
Paperback
Description
This collection of sharply observed animal-themed tales is a delight, told with David Sedaris's trademark blend of hilarity and goodnaturedness.
Though the characters may not be human, the situations in these stories bear an uncanny resemblance to the insanity of our own everyday interactions.In 'The Toad, the Turtle, and the Duck', three strangers commiserate about animal bureaucracy while waiting in a complaint line.
In 'Hello Kitty', a cynical feline struggles to sit through his prison-mandated AA meetings.
In 'The Squirrel and the Chipmunk', a pair of star-crossed lovers is separated by prejudiced family members.
Information
Format: Paperback
Pages: 192 pages, Integrated: 16, col line illus
Publisher: Little, Brown Book Group
Publication Date: 28/02/2012
ISBN: 9780349121932
Free Home Delivery
on all orders
Pick up orders
from local bookshops
Reviews
Showing 1 - 1 of 1 reviews.
Review by derdahinteninderecke
16/06/2015
Ehrlich gesagt, habe ich spontan das Original "squirrel seeks chipmunk" statt der deutschen Übersetzung gekauft, weil... nun ja, der Titel war einfach herrlich absurd ansprechend und gepaart mit der Coverillustration... Es war ein Hüftschuss, der sich gelohnt hat!Doch um was geht es eigentlich: Im Prinzip schreibt David Sedaris eine Anzahl an kurzer Geschichten mit Tieren als Hauptcharakteren. Man kann ihnen problemlos einen fabelartigen Charakter zuweisen, ohne sich allzeit von dem literarischen Begriff der Fabel selbst zu entfernen. Oftmals haben die Geschichten eine Moral oder Lektion, die offen genug ist, dass die meisten Leser sie ohne weiteres erkennen können.Als Beispiel sei einfach die Geschichte der mutterlosen Bärin erwähnt. In ihr stirbt die Mutter der Bärin unerwartet und letztere ist geschockt und traurig. Doch basierend auf den Reaktionen ihrer Mittiere, dass ihre Mutter so plötzlich fort war, drückt die Bärin auf die Tränendrüse und baut ihr ganzes Wesen um diesen tragischen Vorfall auf. Als ihre Mittiere dann langsam die Mitleidstour leid sind, entschließt sich die Bärin umzuziehen dorthin, wo ihre Nachbarn wieder Verständnis für die ach so arme Bärin haben werden.Schließlich setzt sie dem ganzen die Krone auf, als sie ihre traurige Geschichte mit mittlerweile falscher Trauer einem Artistenbären erzählt, der grün-und-blau geschunden, mit ausgeschlagen Zähnen für Publikum tanzen muss. Er hat kein sonderlich großes Mitleid, befindet er sich selbst doch in einer vergleichsweise schlechteren Position. Die Artisten selbst greifen die Gelegenheit beim Schopfe, töten ihren alten Bären und schnappen sich die trauernde Bärin. Nachdem sie sie ebenso "gezähmt" haben wie den Vorgänger, tanzt nun die Bärin für das Publikum und nuschelt durch bloßes Zahnfleisch und Maulkorb die Geschichte ihrer Mutter, wie sie doch ach so plötzlich starb...Was ich an der deutschen Version gelesen habe, erscheint mir die Übersetzung gelungen und passend. Das Lesegefühl ist gut wieder gegeben, was nicht so leicht ist, wie man annehmen sollte.Davon abgesehen, das Buch liest sich einfach schön – viele der hintergreifenden Gedanken der handelnden Personen werden veranschaulicht, und effektiv die Handlungsweise verschiedener Menschen persifliert. Was für den einen als wendehälsisches Verhalten erscheint, ist für den Wendehals mitunter nur zu logisch und somit für den Leser nachvollziehbar.Ein erwähnenswertes Merkmal ist übrigens noch, dass anscheinend Tiere mit Tieren reden können, aber idealerweise ein Raubtier nicht unbedingt sich auf einen Plausch mit seiner Nahrung einlassen sollte. Je nach Gewissen des Raubtieres, hat es dann vielleicht Reue oder dergleichen nach dem Verzehr.Als Fazit kann ich sagen, dass das Buch mehrere Themen und Verhaltensweisen anschneidet, die einem mitunter unangenehm sind - Die Mitleidsheischer, beispielsweise, oder auch der gewalttätige Ehemann - und einen interessanten Einblick in deren Verhaltensweisen und Gedankengänge gewähren. Mir hat's gefallen.