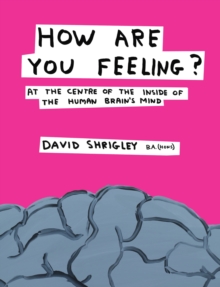 How are You Feeling? : At the Centre of the Inside of The Human Brain's Mind
Hardback
Description
At the centre of the inside of the human brain's mind is the place where one can find the reasons why human beings behave in such peculiar, delightful and unpleasant ways.
I, the author of this book (D.Shrigley BA (Hons)) shall take the reader on a journey around the human brain and along the way I shall point-out various things that are worthy of discussion.
We will start our journey in the eye as that is a common entrance place to the brain.
I shall ruminate about the eye and its properties. I shall tell how the eye's seeing is sorted-out in the brain and the magical nature of it and I shall warn of all the things that can go wrong in this sorting-out process.After the eye, we shall travel to the ear and discuss the world that is heard and how it is heard in the brain and all the awful things that can go wrong; some of them amusing and some not amusing.
Taste and smell will of course be covered as these are also things of interest to the brain.
We will also touch upon touch, so to speak. We will also touch upon the scalp, but only lightly and briefly.
Once we have looked at the brain's government of the senses we shall start to talk about the really interesting stuff.
Like how the brain decides what is right and wrong and why some people are very charming and others behave like monkeys.
Some other questions that might be dealt-with are as follows: Could my brain be removed and replaced with a computer?
Why can't I remember my wife's name? I can constantly hear a faint whistling sound; is it the sound of my brain functioning?
Information
Format: Hardback
Pages: 208 pages
Publisher: Canongate Books Ltd
Publication Date: 04/10/2012
Category: Popular science
ISBN: 9780857867216
Free Home Delivery
on all orders
Pick up orders
from local bookshops
Reviews
Showing 1 - 1 of 1 reviews.
What a horrible, strange, and oddly touching book. I read the majority of this feeling insanely angry. I've never hated a book so instantly and so much. It's not offensive or terrible. Both the art and wording are very evocative and the book isn't without humour, however dark. It's conceptually clever, chaotic and very in your face (like a punch, I felt).<br/><br/>And I <I>hated</I> it. I felt like a bull being smacked in the head with a red cape holding a ton of bricks. The book has one page on worms, but this is what the whole book is, a box of worms. It's a book which catalogues the assault of dark thoughts in broken brains and by the last page I felt quite sad and wiped out. I suppose it touched a nerve (oh please, it bloody hacked it right off).<br/><br/>I want to give it one star, but it's a good book. Books that provoke and make us uncomfortable are valuable, more so perhaps than the books that help us escape ourselves. I think it will appeal to those who can relate completely and can take some comfort in not feeling alone with their brainbox-worms.<br/><br/>As for me, I like my box of worms closed, kept in the attic, with an elephant using it as her reading chair, which is why I loathe this book and begrudgingly give it three stars, not because I liked it, but because it's worth reading.