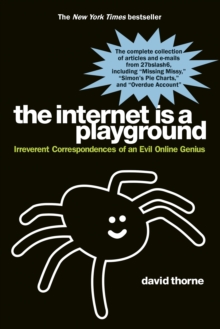 Hidden Treasure : Irreverent Correspondences of an Evil Online Genius
Paperback
Information
Format: Paperback
Pages: 368 pages
Publisher: Penguin Putnam Inc
Publication Date: 28/04/2011
Category: Humour
ISBN: 9781585428816
Free Home Delivery
on all orders
Pick up orders
from local bookshops
Reviews
Showing 1 - 5 of 8 reviews.
Previous | Next
Review by RaeLynn_Fry
16/06/2015
We've all seen it in our email, forwarded to us by a friend or co-worker. The email string is about a man who is trying to pay for a chiropractor's bill with a drawing of a spider. Then there's the Missing Missy lost cat poster. I'm always wary of the "this really happened" tag that comes along with these sorts of emails. But these, my friends, are real. And so is David Thorne, the perpetrator. Thorne is a native of Australia with a wicked sense of humor, which you can bear witness to via his blog, 27b/6. The Internet is a Playground is a hysterical collection of actual emails conversations between Thorne and some poor sap (his co-workers must hate getting emails from him), complaints he gets from blog visitors and other hilarious things that will make your sides ache. From the very first moment I picked up this book and started reading it, I was laughing. Out loud, and uncontrollably. I read it to Hubby on the car ride home the day it came in the mail, and he was laughing so hard, we almost got into an accident. Later that night, I read Hubby the email string between Thorne and his kid's teacher. I was laughing so hard I was crying and I couldn't get the words out. And it was that obnoxious sort of laugh that makes you talk like you've just sucked down a bunch of helium balloons. I need to meet this guy. For real. I think he's my new hero.When I finished the book, I had to share it with someone, and since I'm not the kind of person to go up to a random stranger and hand over a book, I gave it to my mom to read when while we waited in the airport on the way to San Fran. She started laughing as soon as she opened it, quickly becoming my entertainment for our five-hour layover. I watched as her face contorted, eyes squinted, and then the held back laughter exploded. Seeing her react that way only sent me into fits of laughter as I remembered a string of emails from the book. Of course, we were getting weird looks as passengers scooted to the farthest reaches of the terminal, but that only made the whole thing funnier. And you know what? I was totally okay with it. This book instantly became one of my favorites with its laugh-out-loud-okay-to-pee-yourself humor. Read it. READ it. READ IT!!!Seriously, though. Just read it. You won't be sorry.
Review by apense
16/06/2015
I suppose this is what Whistler's "The Gentle Art of Making Enemies" looks like in the 21st century. Brilliant and unforgiving satire.
Review by sjurban
16/06/2015
This was very funny for the first 100 or so pages. Then it just got old. The author comes across as being very full of himself and kind of an ass. He seems to only find humor in tearing down other people, that's just not funny for very long.
Review by ct.bergeron
27/08/2015
Pretty funny, but it is not the kind of book you read cover to cover. it is more interesting if you just grab it, read a story and move on to come back later or even in a few days. Otherwise, you can easily get fed up of the whole pointless story telling. Still can't believe how some people will continu to replie to such email.... it's amazing.
Review by GRgenius
16/06/2015
*WARNING* All of the snarky remarks and slightly grayish humor should be taken with a grain of salt (or sugar if you prefer). They are intended to be made in good humor in light of the title and any offense caused to readers was unintended…unless you laughed, then THAT was intentional.*Perhaps you've been to this author's website before and witnessed his work first hand…than again, perhaps not. Hey, I don't know what you do all day? To gain a little insight on him, in his own words (from the ARC back cover bio)…"..he reads too much, generally exceeds others' tolerances, and listens to Linkin Park. He stays up too late, drinks too much coffee, smokes too much, hates getting up in the morning, and has offspring who thinks he doesn't know what he has been up to when he deletes his Internet history."Yeah…that sounds about right…or at least it does once you've read his work. This is not a book to be taken seriously (hence the Humor genre in which it resides) but it is a book to be taken one sip at a time much like a dose of ill tasting medicine…you know it's good for you, but it doesn't change the fact that it can taste like the drippings from an oil pan. There are many topics covered within ranging from the benign to the OMG-you-did-not-just-write-about-that. "Bill's Guide to Everything on the Internet" is a condensed version of our multitude of social, search and shopping outlets with a penchant for the KISS method (stands for "Keep It Simple…Sally – well, in polite circles it is…) of description. Are they accurate? Some are (surprisingly) but mostly it's just for kicks…or is it? (dun dun dunnnnn) Jetting forward some dozen pages we unearth "Ten Jobs I Would Rather Have Than Mine" that reveals the particular wonders of one day becoming a Fortune Cookie Writer (if you get a message from the future about a robot invasion in your next one…you know he met this aspiration) as well as a Forest Fire Lookout (though I'd be scared if he achieved this one…O-O), and everything in between (well not everything because then it would be called "A Million Jobs I'd Rather Have…."). Perhaps my favorite "conversation" in the collection is actually the first one you encounter about an overdue balance, an inability (or blatant refusal) to pay, and a drawing of a spider. LOL…I'm chuckling as I recall it right now…and getting strange looks from a passerby. *ahem*Overall, a fun and funny filled read that I understood about 50% of the time…sorry, not everyone's humor level revolves around a conversation about what type of monkey would be most useful. Yeahhhh. Scariest part? The introduction lists that the email conversations included…are all…verbatim. Might make you a little more wary the next time you send something out into the virtual black hole we call the Web. Recommended for older teens through adult readers. There is some questionable humor and offensive language, so it's best to keep this one away from the kiddos. Just tell them the spider on the front will come to life if they touch it….