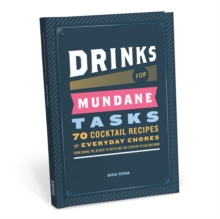 Drinks for Mundane Tasks
Hardback
Description
Why should special occasions get all the fun cocktails-what about the tedium of daily life?
The recipes in Drinks for Mundane Tasks tackle the to-do list with zest.
A way to get through any unbearable duty? We'll drink to that. Only the best cocktail books include the Grass Chopper (for mowing the lawn), the Sazertax (for filing taxes), and more!On the hunt for Christmas gift ideas for men?
Sip on this. Hardcover; 5.25 x 7.25 inches; 128 pagesWritten by David Vienna and illustrated by Fausto Montanari
Also by David Vienna