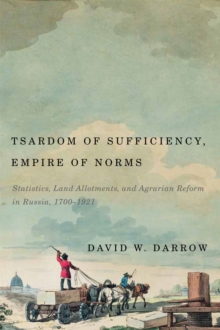 Tsardom of Sufficiency, Empire of Norms : Statistics, Land Allotments, and Agrarian Reform in Russia, 1700-1921
Hardback
Description
What happens when you measure an economy? How does measurement impact policy? In Tsardom of Sufficiency, Empire of Norms David Darrow responds to these broad questions by looking at the application and profound consequences of statistical measurement to the peasant economy in Russia, from the eighteenth century to the Civil War. Nearly all studies of Russia make reference to the land allotment, or "nadel," as a measure of peasant wellbeing.
This is the first work examining the origins of the nadel, how statistical measurement converted it into a modern entitlement, and how it framed the state-peasant relationship.
Land, Darrow argues, was life - peasants needed it and the state, most everyone believed, had an obligation to provide it.
The question, however, was how much land was enough.
Statistics supplied the answer but also locked policy-makers and society into a particular way of seeing peasants and their economy.
Even the empire's final attempt to reform the peasant economy after 1905 remained locked within the old regime category of the nadel.
Statistical measurement strengthened, rather than weakened, the nadel as a category of peasant economic wellbeing such that it persisted beyond 1917 into the early years of Soviet power. Based on archival sources and rural councils' statistical studies, Tsardom of Sufficiency, Empire of Norms shows how the state constructed both an image and a measure of peasant wellbeing from which it could not escape, and how the resultant perception that peasants were entitled to a sufficient allotment became a major obstacle to successful agrarian reform.
Information
Format: Hardback
Pages: 376 pages, 2 tables
Publisher: McGill-Queen's University Press
Publication Date: 05/12/2018
Category: European history
ISBN: 9780773555075
Free Home Delivery
on all orders
Pick up orders
from local bookshops