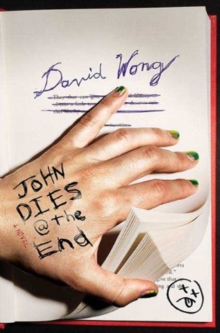 John Dies at the End
Paperback
Description
My name is David Wong. My best friend is John. Those names are fake. You might want to change yours. You may not want to know about the things you'll read on these pages, about the sauce, about Korrock, about the invasion, and the future.
But it's too late. You touched the book. You're in the game. You're under the eye. It is crucial you keep one thing in mind: none of this is my fault.
Information
Format: Paperback
Pages: 480 pages
Publisher: Titan Books Ltd
Publication Date: 01/06/2011
Category: Horror & ghost stories
ISBN: 9780857684837
Free Home Delivery
on all orders
Pick up orders
from local bookshops
Reviews
Showing 1 - 3 of 3 reviews.
Review by deargreenplace
16/06/2015
Like the lovechild of Franz Kafka and William Burroughs, this book could be described as "pure mental" (as we say here in Glasgow).John and David (not their real names) are a pair of slacker dudes who work in a video shop. John discovers the soy sauce first, a drug that heightens the senses to the point where another world becomes apparent. A monster-infested world where their lives are the same but different.The book takes the form of David recounting events to Arnie, a journalist with an interest in the strange. Weird things happen to everyone. It comes together just enough at the end to explain a bit, and had me quite keen to read the next instalment.The humour is punchy, there are girls, buddy moments, and a red coloured labrador called Molly. Yes, it's bizarre, but go with it. I liked it.
Review by othersam
16/06/2015
John Dies At The End is terrific. What I loved most about this book was its unpredictability, so I'm not going to risk ruining that for you by saying much else except this warning: If you dislike puerile humour, quivering dread and being suddenly and savagely lurched from one to the other, leave John Dies At The End on the shelf. But everyone else who picks it up is in for a wild read - one that made me grin and shudder, often /at the same time/.
Review by AHS-Wolfy
27/08/2015
This book started out life as intermittent postings on a blog while the author worked two jobs. Good word of mouth meant the story kept expanding and the audience for it grew until such time as an independent publisher offered to pick it up and put it out there for an even wider world. The momentum of the story continued and it's now also been adapted into a movie that I'll have to check out at some point. The author is currently executive editor for cracked.com, which provides a pointer to the nature of this book. Usually, as far as I'm concerned, comedy and horror don't mix all that well tending to smother each other and resulting in the finished product being too light on both. This is a rare example of the mash-up working well. Genuine creepiness merged with the utterly bizarre and laced with humour around a good story told by a not entirely trustworthy narrator. It won't work for everyone but it did for me and I'll definitely be grabbing the sequel at some point.