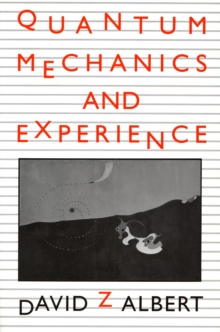 Quantum Mechanics and Experience
Paperback
Description
The more science tells us about the world, the stranger it looks.
Ever since physics first penetrated the atom, early in this century, what it found there has stood as a radical and unanswered challenge to many of our most cherished conceptions of nature.
It has literally been called into question since then whether or not there are always objective matters of fact about the whereabouts of subatomic particles, or about the locations of tables and chairs, or even about the very contents of our thoughts.
A new kind of uncertainty has become a principle of science.This book is an original and provocative investigation of that challenge, as well as a novel attempt at writing about science in a style that is simultaneously elementary and deep.
It is a lucid and self-contained introduction to the foundations of quantum mechanics, accessible to anyone with a high school mathematics education, and at the same time a rigorous discussion of the most important recent advances in our understanding of that subject, some of which are due to the author himself.
Information
Format: Paperback
Pages: 222 pages, 38 line illustrations
Publisher: Harvard University Press
Publication Date: 15/03/1994
Category: Philosophy of science
ISBN: 9780674741133
Free Home Delivery
on all orders
Pick up orders
from local bookshops
Reviews
Showing 1 - 1 of 1 reviews.
Review by cartomancer
16/06/2015
This book is a great introduction to the mathematics of quantum mechanics. It has a good analysis of several different interpretations of the mechanics, and is written in a pretty colloquial style.Or, to put it the way it would have been in the book...This book (Quantum Mechanics and Experience) is a great introduction to the mathematics (the whole system, as it were) of quantum mechanics. It (the book, written by David Albert) has a good (as far as it goes) analysis of several different (possibly not empirically different in practice, by largely empirically differentiable in principle) interpretations of the mechanics (the quantum mechanical formalism, that is), and is written in a pretty colloquial style (which is to say, using terms like "color" or "hardness" instead of spin in order to reach a larger audience in a more intuitive way).