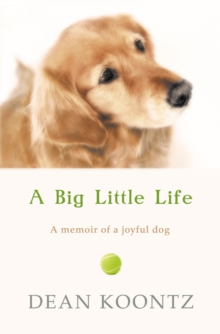 A Big Little Life
Paperback
Description
Dean Koontz's first ever nonfiction book, the deeply moving story of his life with his good dog Trixie Dean Koontz is known for exploring the dark side of human nature in his fiction.
But his softer, playful side comes out when he talks about his beloved dog, Trixie, a golden retriever. Trixie had a special place in Dean's heart. And now, in this, his first non-fiction book, Dean opens his heart to his readers to give us memories of Trixie, of the glorious dog who changed him and changed his life. There's everything in this memoir: adventure, mischief, emotion, and sadness too.
Dean will talk with joy about the many gifts Trixie gave him - and the lessons she taught - and he'll talk with sadness at losing his beloved pet. The loss of a dog is a heartbreak that's been experienced by a great many people, and Dean's delving into that loss is a powerful part of this book, and a cathartic experience for those of us who have loved and lost an animal companion. Trixie had a big little life and lives for ever in Dean's heart ... and in these pages.
Information
Format: Paperback
Pages: 288 pages
Publisher: HarperCollins Publishers
Publication Date: 01/09/2009
Category: Memoirs
ISBN: 9780007336821
Other Formats
EPUB from £0.99
eAudiobook MP3 from £8.99
Free Home Delivery
on all orders
Pick up orders
from local bookshops
Reviews
Showing 1 - 1 of 1 reviews.
Review by mandersj73
27/08/2015
When I first bought "A Big Little Life" I told myself this would be my own little treasure, not to be reviewed, just to be enjoyed. Now, months after reading it some of the items have moved me so much that I still think about them and decided they need to be shared.<br/>Bestselling author Dean Koontz and his wife Gerda had a very happy life that revolved around the business of Dean's books. They were content with what they had, yet they longed for something more. Dean and Gerda actively supported Canine Companions for Independence, and loved visiting the service dogs that were trained through that organization. They were repeatedly asked to adopt dogs that had been retired from service, but kept declining due to their time-consuming commitments with Dean's writing career. <br/>Finally, they decided the time was right, and they were placed with Trixie, a three-year-old golden retriever who taught them to cut back on their workload and enjoy life fully. <br/>One of the tales that stands out is how Trixie would come to Dean's writing desk each day at 5:00 and stand between him and his computer. He was used to working until 7:00 or later, so to quit work at 5:00 was unheard of. Somehow Trixie knew that 5:00 should be quitting time, and she was going to make Dean get away from work and have some fun no matter if he got mad about it or not. She did this for weeks before Dean caught on to her and went ahead and took her bait to play with her instead of working for a few more hours.<br/>Another story I loved was one day Gerda was taking Trixie on their daily walks through the nearby tennis courts, Trixie looked for tennis balls to carry in her mouth to no avail. Disappointed as she was, Gerda and Trixie started descending the steps past the tennis courts when Trixie stopped short and refused to go any further. After much coaxing, Gerda could not get her to move and kept asking Trixie what was wrong. Trixie proceeded to pump her neck and open her mouth and actually speak what sounded like the word "ball." Gerda was so surprised, that she dropped the leash, and Trixie ran up a few steps, nosed under a bush and came out with a tennis ball in her mouth.<br/>When Gerda got home she told Dean the story, and he disbelieved. Months later, with this story long gone from Dean's memory, he was walking Trixie past the tennis courts and a very similar thing happened. Trixie the dog could speak, and what she could say was "ball."<br/>Trixie also was an author. Of course, Dean co-wrote Trixie's books, and they came with a zest and humor that was present in Trixie's daily life. I own a couple of Trixie's books (as well as many of Dean's); they are full of color pictures of Trixie and showcase her happiest moments and some of the random things that go through her head, as translated by Dean. <br/>Trixie tragically passed away in 2007, and this is Dean's homage to the dog who changed his life. It's not a crazy story about a crazy dog; it's just a plain and simple story about how a companion animal can teach so much to a human if the human is open to learning.