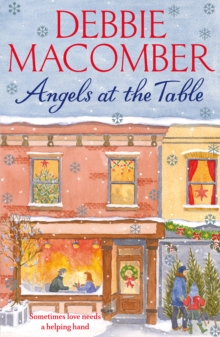 Angels at the Table : A Christmas Novel (Angels)
Paperback
Part of the Angel series
Description
Shirley, Goodness and Mercy, who we met in Angels at Christmas, are back! And as always they're causing all sorts of trouble. So escape the craziness of Christmas, settle back with a cup of hot tea and a Christmas treat and be prepared to laugh. And if you happen to see a camel wandering down the street all on its own, you can take a guess who might be responsible!
Information
Format: Paperback
Pages: 288 pages
Publisher: Cornerstone
Publication Date: 01/11/2012
ISBN: 9780099564041
Free Home Delivery
on all orders
Pick up orders
from local bookshops
Reviews
Showing 1 - 5 of 7 reviews.
Previous | Next
Review by booboobad
16/06/2015
Debbie Macomber's Shirley, Goodness and Mercy are joined by a new angel, Will, to bring havoc and happiness to the Christmas season. The story involves a rising new chef and a food critic who are brought together by Will's interference. The angels cause havoc and then must smooth things over by getting more involved to fix their mistakes. A cozy story that wraps you up like a warm blanket. Short and sweet, Debbie's stories are always a hit with me!
Review by alekee
16/06/2015
What a delightful read. When I read why Debbie added Will...the Prayer Ambassador, I was hooked. Psalm 23:6, " Surely goodness and mercy will follow me all the days of my life: and I will dwell in the house of the Lord for ever."Of course anytime Shirley, Goodness, and Mercy get together, and add in the trainee Will, mayhem will happen. You will be giggling with each little oops that happens.A very uplifting, feel good, and delightful read. You don't want this one to end. Can you picture a camel waking itself down the street? Beware this one is going to hit your funny bone! Of course disaster follows...um remember "to many cooks, spoil the pot"! Good lessons to be learned.Grab a copy of this great Holiday read, don't miss these Angels...they might just brush by you!!I receive a copy of this book through the Publisher Ballantine Books, and was not required to give a positive review.
Review by kpeavley
16/06/2015
I am a huge fan of Debbie Macomber books, especially her Christmas books. This one was good but I am not fully convinced her move to the new publisher was a good one. This book just wasn't up to what her past books have been. Still in all I enjoyed the book and would recommend it to others for an uplifting, fun, Christmas time read.
Review by Maydacat
16/06/2015
There are no other angels who can cause such havoc while trying to do good as can Shirley, Goodness, and Mercy. But wait! They have a new apprentice, Will, and he just can't stop himself from interfering in the lives of two lonely humans. With best of intentions, their efforts all go awry. How things will finally be resolved is anybody's guess, but you can be sure that these special angels are doing their best to help things along while trying to obey Gabriel's orders not to interfere. Readers can depend on author Debbie Macomber to deliver an entertaining Christmas tale that is full of fun and sure to leave you with a warm, fuzzy feeling.
Review by Mzkitty570
16/06/2015
Always a good read!! Snuggle up under the covers and get ready to not put this book down!! Debbie MaComber has done it again (and so have her angels!! LOL). You have to read the note that Debbie writes in the book BEFORE you start reading the story to see how she gets the idea for the "apprentence angel." Very creative I must say.Shirley, Goodness and Mercy are at it again at the very start of the story. They are showing Will what Earth looks like, without Gabriel knowing about it, and how fascinating it is. It's New Year's Eve in New York and everything is sparkling which is just how Goodness likes it. They head to Earth to give will a sneak peek at the humans and things get started right there. There are two lonely people, Lucie and Aren, who "bump into" each other that night. Lucie is a busy restuarnt chef and Aren is a resturant reviewer who goes by a different name than his own. As things progress it starts out great, then goes downhill when Lucie recieves a very bad review from the restaurant critic, which was partly due to the Angels fault. Gabriel tells them they had better get this fixed without any tricks or interaction by the Angels. Debbie MaCombers characters are always well written and she is a great storyteller.