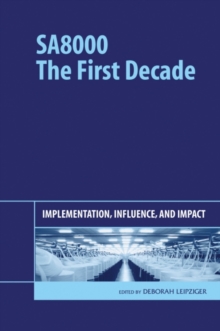 SA8000: The First Decade : Implementation, Influence, and Impact
Hardback
Description
This is the first book in the field of corporate social responsibility to examine the progress of a standard over a ten-year period. Published in late 1997 and revised in 2001, the Social Accountability 8000 (SA8000) standard and verification system is a comprehensive tool aiming to assure humane workplaces throughout the supply chain.
The SA8000 system includes: factory-level management system requirements for ongoing compliance and continual improvement; independent, expert verification of compliance by certification bodies; the involvement of all key stakeholders in the SA8000 system; and harnessing consumer and investor concern by helping to identify and support companies that are committed to assuring human rights in the workplace.
As of 31 December 2007, nearly 700,000 workers were employed in 1,500 facilities certified to SA8000, in 65 countries and 67 industrial sectors.Ten years on, what has the impact of SA8000 been and how do its architects and users see it developing into the future?
In this book, businesses, NGOs, academics and trade union leaders provide much-needed perspective on the lessons learned from SA8000 and set an agenda for the next decade.
The book also provides context on the leading initiatives within the field of CSR (such as ISO 26000 and the Business for Social Compliance Initiative) and how they relate to SA8000.
The book features case studies on the experiences of a wide range of companies, including Gucci, The GAP, Chiquita, TNT, Tata and Otto Versand, and on many of the most innovative programmes in the field of CSR, such as the Made-By label.
Analysts from emerging economies provide valuable insights into how SA8000 has become a key tool in Brazil and India.
The book addresses many of the key themes for corporate responsibility such as traceability, supply chain management and transparency.SA8000: The First Decade provides insights for company managers, NGOs, policy-makers and trade union leaders on how to implement a social standard and will be required reading for any manager seeking to implement SA8000 or any other code of conduct or standard for their suppliers.Deborah Leipziger is well known for her book The Corporate Responsibility Code Book, published in 2003 and considered to be one of the key reference books in the field of CSR.
SA8000: The First Decade is an extension of Ms Leipziger's work over a 17-year career in the field of CSR, in which she has played a role in the development of many social standards, including SA8000 and the Ethical Trading Initiative, and advised many others.
Information
Format: Hardback
Pages: 192 pages
Publisher: Taylor & Francis Ltd
Publication Date: 20/02/2009
Category: Business ethics
ISBN: 9781906093129