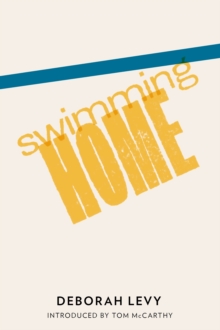 Description
2012 MAN BOOKER PRIZE SHORTLISTED. Swimming Home is a subversive page-turner, a merciless gaze at the insidious harm that depression can have on apparently stable, well-turned-out people.
Set in a summer villa, the story is tautly structured, taking place over a single week in which a group of beautiful, flawed tourists in the French Riviera come loose at the seams. Deborah Levy's writing combines linguistic virtuosity, technical brilliance and a strong sense of what it means to be alive.
Swimming Home represents a new direction for a major writer.
In this book, the wildness and the danger are all the more powerful for resting just beneath the surface.
With its deep psychology, biting humour and deceptively light surface, it wears its darkness lightly.
Information
Format: Paperback
Pages: 176 pages
Publisher: And Other Stories
Publication Date: 01/10/2011
ISBN: 9781908276025
Other Formats
Paperback from £6.75
EPUB from £8.00
CD-Audio from £11.49
Free Home Delivery
on all orders
Pick up orders
from local bookshops
Reviews
Showing 1 - 5 of 7 reviews.
Previous | Next
Review by nomadreader
16/06/2015
The backstory: Swimming Home is on the 2012 Booker Prize shortlist.The basics: This novella explores the life of Kitty, a beautiful, deeply troubled young botanist with a passion for poetry. Set in a summer cottage on the French Riviera in July 1994, Kitty enchants Joe, a famous poet, who is vacationing with his wife, teenage daughter, and a couple of friends.My thoughts: From the first line of this novel, "When Kitty Finch took her hand off the steering wheel and told him she loved him, he no loner knew if she was threatening him or having a conversation," I was enchanted by both Levy's prose and these haunted, curious characters. Levy's crisp, precise prose paints vivid pictures of both the characters and setting. This novella is slight only in pages, but it packs an incredible literary and emotional punch.This novella was a page turner. Levy wowed me with the tightness and beauty of her prose in every single sentence. Rarely do I want to re-read a novel, but the combination of language and story in this novel is a rare delicacy.The verdict: There's a startling intimacy to this novel and its characters. As a reader, I was unsettled as a voyeur witnessing the tragedies unfold in the lives of these tender, haunted characters, but I also loved every word, punctuation mark and sentence. Levy has written a masterpiece, and it's utterly deserving of this year's Booker Prize.
Review by Cait86
16/06/2015
Swimming Home is set in a villa in the French Riviera, where poet Joe Jacobs is vacationing with his wife, Isabel, his daughter, Nina, and their friends, Mitchell and Laura. Everything seems perfectly idyllic until a strange girl named Kitty Finch is found swimming naked in the villa's pool. Kitty pretends to believe that the villa was hers for the week, and Isabel invites her to stay. In reality, Kitty has sought out Joe, who she worships, to look at one of her poems. This lie is just the first in a series of secrets and deceptions that drive Swimming Home forward.Levy makes some interesting choices here, in her writing. Characters frequently believe outlandish things - for example, Kitty is initially mistaken for a bear, dead in the pool, and when Nina goes missing, the adults assume she has been kidnapped, when really she is merely asleep. Kitty is frequently accused of being crazy, but the gullibility and tendency to expect the worst of all the characters makes the entire cast seem a bit off their rockers. Next-door neighbour Dr. Sheridan, caretaker Jurgen, and local Casanova Claude round out the novel with more insanity. Add to this a writing style that is dreamy and trance-like, and Swimming Home feels a bit like that warped picture you get when you open your eyes underwater and look up at the world.Swimming Home is an excellent book, and I am thankful the Booker judges brought it to my attention.
Review by Beamis12
16/06/2015
Not quite sure what to make of this little gem of a book. A holiday, characters that are on course for a terrific crash of some sort, the insidious nature of depression all meet in this tightly structured, brilliantly worded novel. Every word, every scene means something, nothing is wasted. Strange but rather brilliant at the same time. Didn't quite manage to like it, but did admire it and the ending was not at all was I thought it was going to be. The tension in the novel is palpable and at times downright unconformable. So, so glad my holidays are not at all like this one.
Review by SandDune
16/06/2015
Books like this are one of the reasons that I like my RL book club. Despite it being short-listed for the Booker Prize in 2012, I would have been pretty unlikely to have chosen this book for myself if I hadn't been doing my book club read of the shortlist. And I am glad I picked it up: despite having some initial misgivings in the first few chapters I thought it was a rewarding read and it warranted its place on the shortlist.Joe and Isabel Jacobs are holidaying in the South of France with their 14 year old daughter Nina, and friends Mitchell and Laura. Returning to their villa they find a young woman swimming naked in their pool. She introduces herself as Kitty Finch, and she explains she has also booked the villa, but there has been a mix-up with the dates and she is waiting for the villa's caretaker to find her a local hotel room. When no hotel room is available for several days, Isabel Jacobs surprisingly asks her to stay at the spare room in the villa. Only later does Kitty Finch confess to Joe Jacobs, a well-known poet, that she has followed him to the South of France in order to persuade him to read her poem. And as the day go by, other aspects of Kitty's behaviour start to become more and more unstable as well.At the start of the book my initial feelings were that these were irritating and arrogant people with whom I did not want to spend time, in particular Mitchell, who is a gun-obsessed obnoxious boor. But as the book progressed, and more and more is revealed this starts to seem a simplistic point of view. The prologue leads the reader to expect an affair between Joe and Kitty, but ultimately Kitty's presence in the villa has effects that stretch out in a far more unexpected direction.
Review by librarian1204
16/06/2015
Beautifully written. Short. Hard to put down, even when you want to. A book that you will think about for a very long time.