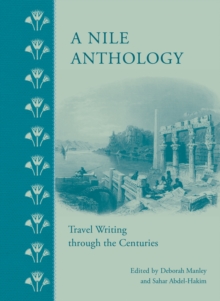 A Nile Anthology : Travel Writing Through the Centuries
Hardback
Description
The stretch of the longest river in the world that nurtured the world's first great civilization has drawn and impressed visitors since ancient times.
The Greeks were fascinated by the mysterious annual flood of the Nile that brought both water and nourishing silt to the lands along its banks, while nineteenth-century travellers were amazed by the magnificent tombs and temples of Upper Egypt.A Nile Anthology brings together the accounts and reflections of visitors and travellers to the Nile between Luxor and Aswan through the ages, from Herodotus in the fifth century BC, and the Arab geographers of medieval times, to such nineteenth-century luminaries as Amelia Edwards, Florence Nightingale, Jean Francois Champollion, Edward Lane, and Sir Arthur Conan Doyle.
From the practicalities of river travel to descriptions of the Pharaonic monuments, via the sights, sounds, and smells of the teeming souks, our writers guide us through a world and an age long gone.
Information
Format: Hardback
Pages: 160 pages, 27 b/w
Publisher: The American University in Cairo Press
Publication Date: 19/10/2015
Category: Memoirs
ISBN: 9789774167232
Free Home Delivery
on all orders
Pick up orders
from local bookshops