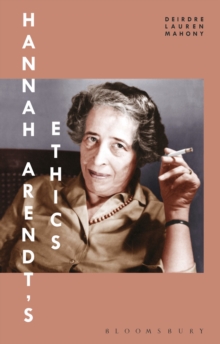 Hannah Arendt's Ethics
Paperback / softback
Description
The vast majority of studies of Hannah Arendt's thought are concerned with her as a political theorist.
This book offers a contribution to rectifying this imbalance by providing a critical engagement with Arendtian ethics. Arendt asserts that the crimes of the Holocaust revealed a shift in ethics and the need for new responses to a new kind of evil.
In this new treatment of her work, Arendt's best-known ethical concepts - the notion of the banality of evil and the link she posits between thoughtlessness and evil, both inspired by her study of Adolf Eichmann - are disassembled and appraised.
The concept of the banality of evil captures something tangible about modern evil, yet requires further evaluation in order to assess its implications for understanding contemporary evil, and what it means for traditional, moral philosophical issues such as responsibility, blame and punishment.
In addition, this account of Arendt's ethics reveals two strands of her thought not previously considered: her idea that the condition of 'living with oneself' can represent a barrier to evil and her account of the 'nonparticipants' who refused to be complicit in the crimes of the Nazi period and their defining moral features.
This exploration draws out the most salient aspects of Hannah Arendt's ethics, provides a critical review of the more philosophically problematic elements, and places Arendt's work in this area in a broader moral philosophy context, examining the issues in moral philosophy which are raised in her work such as the relevance of intention for moral responsibility and of thinking for good moral conduct, and questions of character, integrity and moral incapacity.
Information
Format: Paperback / softback
Pages: 240 pages
Publisher: Bloomsbury Publishing PLC
Publication Date: 26/12/2019
Category: The Holocaust
ISBN: 9781350143890