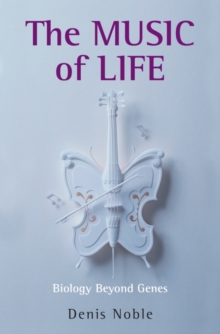 The Music of Life : Biology beyond genes
Paperback
Description
What is Life? Decades of research have resulted in the full mapping of the human genome - three billion pairs of code whose functions are only now being understood. The gene's eye view of life, advocated by evolutionary biology, sees living bodies as mere vehicles for the replication of the genetic codes.
But for a physiologist, working with the living organism, the view is a very different one.
Denis Noble is a world renowned physiologist, and sets out an alternative view to the question - one that becomes deeply significant in terms of the living, breathing organism.
The genome is not life itself. Noble argues that far from genes building organisms, they should be seen as prisoners of the organism.
The view of life presented in this little, modern, post-genome project reflection on the nature of life, is that of the systems biologist: to understand what life is, we must view it at a variety of different levels, all interacting with each other in a complex web.
It is that emergent web, full of feedback between levels, from the gene to the wider environment, that is life.
It is a kind of music. Including stories from Noble's own research experience, his work on the heartbeat, musical metaphors, and elements of linguistics and Chinese culture, this very personal and at times deeply lyrical book sets out the systems biology view of life.
Information
Format: Paperback
Pages: 176 pages, 7 black and white halftones
Publisher: Oxford University Press
Publication Date: 14/02/2008
Category: Philosophy
ISBN: 9780199228362
Free Home Delivery
on all orders
Pick up orders
from local bookshops
Reviews
Showing 1 - 1 of 1 reviews.
Review by Lapsus16
16/06/2015
Dr. Noble is one of the most creative physiologists of our time, and not surprisingly he decided to put an end to the endless "DNA craze" affecting scientists and media alike. In an era where everything is "genetic", Dr. Noble lucidly unmasks the pitfalls of gene-centrism, to reveal the powerful and obvious societal and organismal influences that govern gene expression. This little book does not deny the work by Dawkins and Gould (frequently and appropriately cited) but rather redefines the modern Darwinism of life in a more holistic, and scientifically acceptable perspective. The devil is in the details, and we have been fooled for too long by those who only see the music notation of life and not the whole symphony!