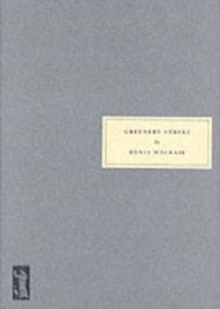 Greenery Street
Paperback
Information
Format: Paperback
Pages: 392 pages
Publisher: Persephone Books Ltd
Publication Date: 22/09/2002
ISBN: 9781903155257
Free Home Delivery
on all orders
Pick up orders
from local bookshops
Reviews
Showing 1 - 5 of 5 reviews.
Review by SimonW11
16/06/2015
This was my duff choice of the month, It is not unusual for me to put a book down, Sometimes for years. This one though I have no intention of finshing.It tells the story of the first happy year of a young couples life together in the 1920's. Greenery St is where they hope to live forever. not realising that this 5 story terraced London house is just to small to raise children. It is well written and amusing at first but a man can only take so much billing and cooing before his very soul rebels.Beside their smugly complaisant lack of any empathy with their servants and those less fortunate was making me seriously consider joining the local anarchist group in their plans to "Kill the Rich."
Review by Kasthu
16/06/2015
Greenery Street is the story of a year in the life of a young married couple. The street of the title is a symbol of a way of life; the first-time houses that young married people have before they begin having families. The couples always vow to stay longer, but when they begin to have children, they move onward and upward in search of larger houses in which to live. The novel is based on Denis Mackail's experience living as a newlywed in Walpole Street, in a house that had apparently once been occupied by PG Wodehouse and that was later occupied by the author Jan Struther. Mackail himself came from a rather exalted family; he was related to Rudyard Kipling and Stanley Baldwin,; his sister was Angela Thirkell (who apparently was quite a bully) and his nephew was Colin MacInnes. Mackail grew up as a nervous child, only finding refuge in marriage; his first year of marriage, fictionalized in this book, was one of the happiest times of his life.Ian and Felicity are one of the married young couples that move into Greenery Street to begin their life together. They're not so much characters as they are stereotypes; Felicity is pretty much the perfect housewife (or at least she tries to be), and Ian is the young working husband. It's a rather dated view of marriage (although keep in mind that the book was published in the 1920s), and a dated way of viewing how houses should be arranged (as the preface says, a 5-story terraced house today seems adequate in which to raise children, but that's only if you don't consider the servants a middle-class family had). The novel is written very much like a play, complete with stage directions and dialogue. It's an interesting way to write, but I thought that, combined with regular prose, this way of writing was confusing and broke up the flow of the story. Mackail frequently switches from the present tense to the past tense, which also distracted from the flow of the story.
Review by pb_29
16/06/2015
Sadly disappointed by this book - was looking forward to reading about the young couple in their first year of married life, but about half way through, I stopped caring about them completely. When you reach the end of a book and feel relieved that it's come to an end, it's not a good sign! In parts, the book was written well, but the story seemed to just wander along with no major hook to act as a page turner. Maybe I just couldn't relate as I am not in my first year of married life, but unlikely to recommend this to others unfortunately.
Review by Dowsabel
16/06/2015
i really wanted to love this book and I couldn't quite manage it. I was intrigued by PG Wodehouse's praise for it and by the fact that it deals with the first year of a happy marriage rather than the much more common subjects of courtship or marital disaster. It is by no means devoid of charm or humour and there are genuinely touching moments, as when Our Hero and his terrifying future father-in-law discover common ground, but it has dated badly. It can be dreadfully arch and the narrator patronises Our Heroine in a manner likely to make any red-blooded 21st Century female reader grind her teeth.
Review by annejacinta
16/06/2015
I wonder how this story would be told if it was written by a woman? I loved it. The female, Felicity, is on the surface a bit superficial, but by the end you realise she is a young woman finding meaning in her life. The male, Ian, at first appears superior, but in fact he is far from it. Together these two young people learn how to live together. There is a lot of warmth, some very unusual angles - the houses talk. - and the effect is a fascinating creative work about life in 1920 s s middle class England.