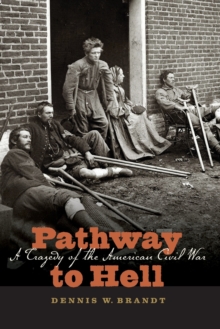 Pathway to Hell : A Tragedy of the American Civil War
Paperback / softback
Description
Shell shock, battle fatigue, posttraumatic stress disorder, lack of moral courage: different terms for the same mental condition, formal names that change with observed circumstances and whenever experts feel prompted to coin a more suitable descriptive term for the shredding of the human spirit.
Although the specter of psychological dysfunction has marched alongside all soldiers in all wars, always at the ready to ravish minds, rarely is it discussed when the topic is America's greatest conflict, the Civil War.
Yet mind-destroying terror was as present at Gettysburg and Antietam as in Vietnam and today in Iraq and Afghanistan.
Drawing almost exclusively from extensive primary accounts, Dennis W.
Brandt presents a detailed case study of mental stress that is exceptional in the vast literature of the American Civil War.
Pathway to Hell offers sobering insight into the horrors that war wreaked upon one young man and illuminates the psychological aspect of the War Between the States.
Information
Format: Paperback / softback
Pages: 208 pages, 24 illustrations, 4 maps
Publisher: University of Nebraska Press
Publication Date: 01/07/2010
Category: History of the Americas
ISBN: 9780803228245
Also by Dennis W. Brandt