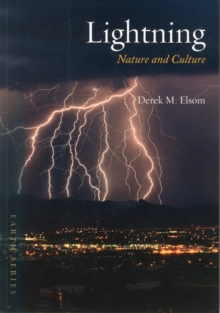 Lightning : Nature and Culture
Paperback / softback
Part of the Earth series
Description
Nature's own spectacular firework display, lightning is awe-inspiring, beautiful and dangerous.
Early civilizations believed lightning was so powerful that only gods and goddesses could wield such formidable forces.
By the eighteenth century attitudes and understandings of lightning had changed markedly, as science began to replace folklore in our comprehension of this natural phenomena.
Benjamin Franklin's kite experiment proved that lightning was an 'electric fluid', and repeated attempts were made to protect ourselves from lightning's destructive potential, and depict its extraordinary power in art, film and literature.In Lightning: Nature and Culture, Derek M.
Elsom explores the history of humanity's relationship with this natural phenomena - from the myths and legends of the storm deities, to in-depth studies of its artistic representations, to state-of-the-art lightning protection systems on aircraft, ships and skyscrapers.
Lightning explores the stories of those struck by lightning, and asks the vital question: 'What can we do to lessen the risk of being struck?'Beautifully illustrated with stunning lightning displays and striking images of storm gods and goddesses, as well as the distinctive fern-like branching patterns left by lightning on people's skin, Lightning: Nature and Culture will appeal to all those interested in the natural environment, especially those fascinated by extreme weather forces and how weather is an integral part of our daily lives.
Information
Format: Paperback / softback
Pages: 240 pages, illustrations
Publisher: Reaktion Books
Publication Date: 01/10/2015
Category: Meteorology & climatology
ISBN: 9781780234960
Free Home Delivery
on all orders
Pick up orders
from local bookshops
Also by Derek M. Elsom