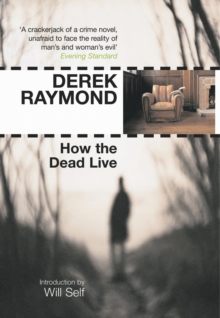 How the Dead Live : Factory 3
Paperback
Description
This, the third novel in the Factory Series, sees Raymond's nameless detective leave London for a remote village called Thornhill, where he's meant to be looking into the disappearance of a local doctor's wife. How The Dead Live is a haunting, fantastical novel, with a hellish country house at its centre; a mystery with little interest in the mystery, a police procedural with almost no procedure.
Instead, and as ever with Raymond, it's a brilliantly unsettling investigation into love and damnation.
This is life seen from the very bottom of the bottle - a fitting succesor to classic noir writers such as Jim Thompson and David Goodis.
Information
Format: Paperback
Pages: 224 pages
Publisher: Profile Books Ltd
Publication Date: 13/09/2007
ISBN: 9781852427986
Free Home Delivery
on all orders
Pick up orders
from local bookshops
Reviews
Showing 1 - 4 of 4 reviews.
Review by susanamper
16/06/2015
A Scotland Yard mystery with a nameless detective sent to the hinterlands to investigate a case of a missing woman. How she disappeared and why no one is talking about is it what has the moody, misanthropic nameless narrator puzzled. Derek Raymond has clearly studied the style of Raymond Chandler, and while the book is very good, even thought provoking, it's not Chandler. But then, what is?
Review by FicusFan
16/06/2015
This is a book I found while looking for another book of the same name by Will Self (from a 100 book read thread recommendation). It looked interesting so I thought I would give it a try.This book is a mystery, very British. It is a hardboiled noirish type of book. Its the 3rd in the <b>Factory Series </b>. Some of the dialog is also very specialized, criminals and cops, trying to approximate Chandler's patter of 1940s LA (the UK version of course).The POV is a nameless detective, who is normally London-based, but this book sends him to a remote village. He is a walking insult/argument. The book is one long argument, when he isn't pensively musing about life, love, death, and his life experience. I am reminded of the Monty Python sketch (Silly Walks ?) which mentions the Bureau of Arguments, only not funny.The story is about the six months' disappearance of a prominent local man's wife - which no one had reported and the local police had not investigated. Their country house, where the locals attended the wife's singing concerts six months before, has become a dying, ruined, derelict. Not exactly believable in such a short time.The book started out well, but got lost along the way. The writing was a bit awkward, and I didn't really care about the characters. The story was mildly interesting, but the investigation was just an excuse for more insults and arguments. At least it was short, but probably won't read more by this author.
Review by datrappert
16/06/2015
Remarkable. One of the darkest, saddest, and yet funniest books I have ever read. In the third book of the Factory series, Raymond's Nameless Detective is more relentless than ever in his no-compromises pursuit of justice as he travels to a town outside London to investigate the disappearance of a woman after the local police have failed to do so. There is a compelling mystery at the heart of the book, and it has all the noir trappings a reader could ask for, but that isn't the point. The most important parts of the book take place in the Nameless Detective's head as he spins soliloquies about life, death, loss, and redemption and in the long quotations from the husband of the missing woman. The Detective's basic methodology for resolving the case is to hilariously insult everybody he meets--with a few notable exceptions--and to reject the help of anyone, except for his trusted reporter friend who shows up halfway through the book. He is like Hammett's Continental Op in his ability to stir a whole town up for his own purposes.But this book doesn't take place in the real world at all. It is just as fantastic an atmosphere as Poe's Fall of the House of Usher, which it closely resembles in many ways. The descriptions of the decaying mansion at the center of the book, and, just as fantastically, the way the Detective stares down death at the hands of a rifle toting mother or a hired killer, are something out of a fever dream. On top of the noir and the Poe, there is also the poetry--poems, songs, and prose--that runs throughout the book, often as part of dreams the Detective, as first-person narrator, recounts. So the equation here might best be described as Dashiell Hammett + Edgar Allan Poe + Thomas Wolfe = Derek Raymond. But even that can't do justice to what Raymond has achieved here. For all of its influences, it emerges as a unique, visionary argument that, in the midst of corruption and chaos, one man's unalterable quest for justice can still mean something.If you try to read this as a regular mystery or piece of detective fiction, you are doomed to miss the point. And if you fall into sync with Raymond's and the Nameless Detective's way of thinking? Then maybe you are just plain doomed. But we don't have to go down without breaking a jaw or two.
Review by missizicks
16/06/2015
A change of scene in this book, as our nameless detective sergeant heads to the countryside to investigate the disappearance of a doctor's wife. Less violent than the previous two in the series, and more poignant. There are times when the prose is slightly too florid, and times when the story needs to move on but becomes mired in Raymond's extemporising and theosophising, but over all it's a good yarn with a tragic ending.