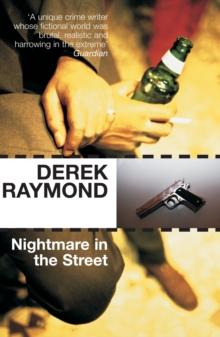 Nightmare in the Street
Paperback
Description
A plain-clothes copper in Paris, Kleber is 40 years old, drinks hard and smokes fifty a day.
He is devoted to his young wife, Elenya, a former prostitute whom he rescued from her pimp, but he is embittered by 22 years on the streets, and his sleep is haunted by dreams of death.
Kleber has many enemies, and only one friend: a criminal named Mark.
When Kleber is suspended from the police force for punching a fellow officer, his underworld adversaries seize their chance to bring him to heel.
Down but not out, Kleber will show no mercy to those who harm the ones he loves. Derek Raymond?s final book ? the typescript was discovered after his death in 1994 ?
Nightmare in the Street is a fitting finale to a career spent writing about, and indeed living among, the darkest reaches of humanity.
Information
Format: Paperback
Pages: 224 pages
Publisher: Profile Books Ltd
Publication Date: 11/09/2006
Category: Crime & mystery
ISBN: 9781852429089
Free Home Delivery
on all orders
Pick up orders
from local bookshops
Reviews
Showing 1 - 1 of 1 reviews.
Review by missizicks
16/06/2015
I'm a fan of Derek Raymond's Factory series, and my husband bought me Nightmare on the Street because I'm a completist. Posthumously published, this forgotten typescript reads like a skeleton of ideas waiting for the flesh of narrative flow to be added. I skim-read huge chunks of text where lots of words were saying nothing much. I'd hazard a guess that only a fifth of the book is actually story with a plot.On the whole, it's a mixture of polemic and dialectics - almost like reading the ravings of a madman having a conversation with himself. It made me think of Wilde or Coward in tone on a couple of occasions.It's more a ghost story than a crime novel. Crimes happen, but they're not that significant to the story. Only one crime matters, and it leaves the main character haunted and raving with madness.There are echoes of scenes in the Factory novels - a chippy detective at odds with the system who believes himself to be morally superior and is fond of punching higher ranking officers finds himself suspended. A couple of the ideas in this typescript were certainly used in the final Factory book, which makes me wonder whether Raymond abandoned the typescript for a reason.There's a line on page 171 that sums up the tone of the book: "He thought he had probably never grown up much after sixteen." The florid, over emotional outbursts about love and justice are quite juvenile in tone, especially the daydreaming about Madonna-Slut stereotypical women.In all, I think it would have been better to leave this 2/5s work unpublished. If you're a Factory series aficionado, give it a miss. You'll be disappointed.