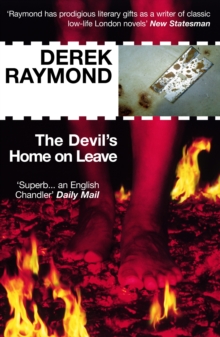 The Devil's Home On Leave : Factory 2
Paperback
Description
A man's corpse is discovered in a Rotherhithe warehouse, chopped up, boiled to avoid identification, and bundled into five Waitrose carrier bags.
Our nameless narrator from A14 - the 'Unexplained Deaths' division of the Met - is put on the case.
Operating, as usual, with his wit and sheer nerve in place of adequate resources and contacts, the narrator's investigations uncover much more than the murderer.
As he probes a world of horror in South London, a terrible secret from his own past emerges. 'A bizarre mixture of Chandleresque elegance... and naked brutality' Daily Telegraph 'Hellishly bleak and moving' New Statesman 'Superb... an English Chandler... only better' Daily Mail
Information
Format: Paperback
Pages: 224 pages
Publisher: Profile Books Ltd
Publication Date: 01/01/2007
ISBN: 9781852427979
Free Home Delivery
on all orders
Pick up orders
from local bookshops
Reviews
Showing 1 - 3 of 3 reviews.
Review by Larou
16/06/2015
This is the second novel in Derek Raymond's "Factory" series of crime novels. I felt a bit ambivalent about the first one, "He Died With His Eyes Open" - while on the hand very well written and presenting an interesting, British take on the noir novel, it unfortunately also often hovers on the border of being pretentious that it crosses on a couple of occasions, in particular in those passages that quote from tape recordings of the victim and that read like some second-rate Sartre of the "La Nausée" period (and therefore like fifth-rate Celine).None of that in "The Devil's Home On Leave", though; this is a novel that makes no comprises in the grim outlook on society it presents and does not attempt to mitigate its bleakness by flights of pseudo-philosophical Weltschmerz. Therefore, potential readers should be warned - this is most definitely not a comfort read, but is a novel that shines a very harsh and unforgiving light on the world we live in.And another caveat: while "The Devil's Home On Leave" is a kind of a police procedural, it is most certainly not a mystery novel - the reader is told who commited the deed even before the murder occurs; and while there are some revleations as to the motivations behind it at the end, they're not really the driving force of the novel.The narrator, the police sergeant we know from the first "Factory" novel and about whose history we learn quite a bit more in this one (even though he continues to remain nameless), manages to identify the killer quite early, and what keeps the novel going is his attempt to actually prove it was him as well as figuring out the background of the crime; and in the process of the unfolding plot, the souls not only of the killer and the police officer pursuing him are laid bare, but also that of a society that not only allows evil to fester, but actively profits from it."The Devil's Home On Leave" is a very intense read, unpleasant and discomforting, but important and rewarding precisely because of that. While being firmly rooted in the tradition of the noir genre, it still manages to be not quite like anything else out there, wielding it's language like a scalpel, dissecting crime and evil, and keeping an unflinching gaze on the cruelty and violence that dominate so much of our world today.
Review by datrappert
16/06/2015
Don't read this book because you are looking for a puzzling mystery. The plot is mostly linear and there are no surprises. Don't read it because you are looking for an escape from everyday life. This book will make you think about life whether you want to or not.Read it because Raymond was a brilliant writer, who could make your stomach churn and your eyes tear up and who could spin and twist the English language into a thing of raw, unrelenting beauty. One blurb on the cover compares him to Chandler. This is a fair comparison in the sense that they were masters of writing noir fiction that in its best paragraphs is truly poetic. But Raymond is a thousand times gritter and more real than Chandler. This is not a knock on Chandler, who is one of my favorite writers. It is just a fact about how the two authors approach their subject matter. Nowhere in Chandler will you ever find emotions as deep as they are in this book.As in the first book of Raymond's Factory Series, He Died with His Eyes Open, the nameless London police sergeant who narrates the story is in pursuit of a cold blooded killer. Again, it isn't a whodunit. The policeman knows from the start who did it. The book is full of connections; everything is far neater than real life. But that isn't the point of what Raymond is writing about. The book hurtles forward mainly as a series of conversations between the sergeant and his nemesis at the police department, Bowman, and with the suspected killer, McGruder. Bowman is, in fact, a little better at his job than the sergeant gives him credit for, but the sergeant hates Bowman for his ambition and self-promoting maneuvering within the force, whereas the sergeant has no ambition at all. He is at home in the Unexplained Deaths Division, where he can work mainly by himself. When offered the chance for promotion, he deliberately messes it up, in one of the book's funnier scenes that is an extended example of the sergeant's utter disrespect for any type of authority.It is the Sergeant's repeated conversations with McGruder that form the heart of the book, however. McGruder is fascinating sociopath who can't help but talk about himself, all the while keeping a deadly razor handy. It might be an effective ploy if he were dealing with anyone else than the sergeant, whose sole reason for living is to track down those who murder members of society who otherwise would be unmourned. This is because his own life has no other meaning after the death of his daughter, which is revisited multiple times in the most searing and painful parts of this book, especially if the reader has children of his or her own.There is no way, with my meager writing ability, that I can do justice to the experience of immersing yourself in Raymond's dark dark world. It's as unrelenting and austere a vision as I've ever encountered in fiction.
Review by missizicks
16/06/2015
Not as good as He Died With His Eyes Open. The middle section got a bit bogged down in nothing much happening and flabby exposition, but it was book ended by pace and wit and better than a lot of current fiction. The thing I've liked about both the Factory books I've read so far is Raymond's commitment to the ambiguous ending. There's no neatening up, no tying off of strands, things are left open, the reader who searches for neatness left unsatisfied. Just like in life. The Devil's Home On Leave is a grim tale of industrial espionage in 1980s Britain, against the backdrop of the terrors in Northern Ireland, with a psychopath at the centre pitting his arrogance against the unnamed police sergeant 'hero' of these novels. The sergeant is as phlegmatic as ever. We learn more detail about his personal circumstances, which compare with those of the criminals in the tale, and are free to speculate on why some choose the side of the law, while others go against it.