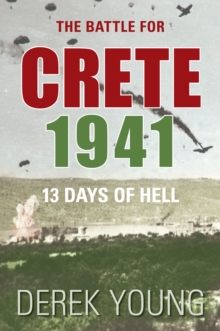 The Battle for Crete 1941 : 13 Days of Hell
Paperback / softback
Description
The Battle for Crete was unique. Not only does it represent the first large-scale airborne invasion but it was also the first major defence against airborne assault, the concept the Nazi commanders called `vertical envelopment'.
The story of Crete is one of individual and unit heroism; a spirited and often successful defence at the local level hampered by a command built on concept and promise rather than actuality and resource.
This is the story of a desperate defence and a fighting rearguard action; the ferocity of close quarter fighting and the tenacity of the allied defence; from the initial airborne assault on the allied airfield at Maleme on the 20th May to the eventual evacuation 13 days later on the 1st June.
Although the German forces claimed victory, the British and Commonwealth troops had destroyed forever the myth of the invincibility of the famed German parachute troops, the Falschirmjager. The Battle for Crete 1941 is a dramatic day-by-day narrative of the 13 days of fierce combat and includes the `voices' of British troops who fought there.
It presents the allied actions against the background of the German preparations for, and implementation of, Operation Mercury, giving the reader an unparalleled intimacy with the Allied response.
Information
Format: Paperback / softback
Pages: 320 pages
Publisher: The History Press Ltd
Publication Date: 01/09/2008
Category: European history
ISBN: 9780752446844
Also by Derek Young