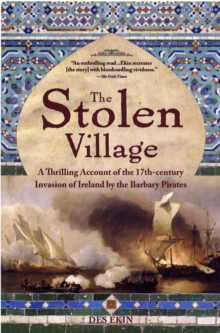 The Stolen Village : Baltimore and the Barbary Pirates
Paperback
Description
In June 1631 pirates from Algiers and armed troops of the Turkish Ottoman Empire, led by the notorious pirate captain Morat Rais, stormed ashore at the little harbour village of Baltimore in West Cork.
They captured almost all the villagers and bore them away to a life of slavery in North Africa.
The prisoners were destined for a variety of fates -- some would live out their days chained to the oars as galley slaves, while others would spend long years in the scented seclusion of the harem or within the walls of the Sultan's palace.
The old city of Algiers, with its narrow streets, intense heat and lively trade, was a melting pot where the villagers would join slaves and freemen of many nationalities.
Only two of them ever saw Ireland again. The Sack of Baltimore was the most devastating invasion ever mounted by Islamist forces on Ireland or England.
Des Ekin's exhaustive research illuminates the political intrigues that ensured the captives were left to their fate, and provides a vivid insight into the kind of life that would have awaited the slaves amid the souks and seraglios of old Algiers. The Stolen Village is a fascinating tale of international piracy and culture clash nearly 400 years ago and is the first book to cover this relatively unknown and under-researched incident in Irish history.
Shortlisted for the Argosy Irish Nonfiction Book of the Year Award
Information
Format: Paperback
Pages: 488 pages, 12 black & white halftones, 4 black & white line drawings
Publisher: O'Brien Press Ltd
Publication Date: 02/05/2008
Category: General & world history
ISBN: 9781847171047
Free Home Delivery
on all orders
Pick up orders
from local bookshops
Reviews
Showing 1 - 1 of 1 reviews.
Review by jbrubacher
16/06/2015
This is an exhaustive descriptive of the kidnapping of over 100 people from Baltimore, Ireland, by pirates. They were then sold as slaves in Algiers. The book covers the event, the events leading up to it, and what happened after. Details are given, and if they aren't known they're extrapolated from similar situations. The books ends with theories about why it all happened. No possibility or detail is overlooked.It starts very well, with the kidnapping itself, but then the author goes back in time a day, then a week, then a year, many years, and by the time we're forward at the kidnapping again it's more than 100 pages on. This book really is exhaustive. If you're interested in the whole situation, every single idea and moment and person involved or just slightly involved, you can read it right through. The author hasn't left anything aside. And apart from a few ideas about what might constitute living "happily ever after" for kidnapped women, even the assumptions made seem to make a lot of sense.It's a shame that the author's personality bleeds through so often, though it does make it slightly more interesting and readable than it would have been as dry text.