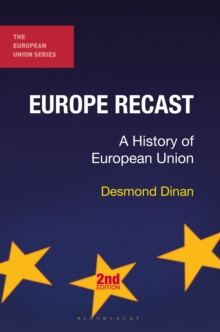 Europe Recast : A History of European Union
Paperback / softback
Description
This is the fully updated 2nd edition of the leading textbook on the history and evolution of the European Union, written by a leading authority, and highly successful textbook author, in a clear, entertaining and accessible style.
Dinan tells the story of European integration from its modern origins in the 1940s to the challenges of the Eurozone crisis. Organized chronologically with each chapter broadly covering a decade, a thematic introduction and concluding chapter draw out key issues and themes and assess rival interpretations. Dinan begins at the EU's modern origins post-WWII, through its gradual enlargement, to the recent challenges of the Eurozone crisis and Euroscepticism.
This is a comprehensive introduction to the underlying ideals, political dynamics, economic forces, and personal efforts that shaped the original European Communities and how that led to the development of the EU today. Particular historical interpretations are analysed impartially by evaluating the main theories in turn, and offering the author's own analysis.
New material on the historiography informs students how to navigate historical interpretations and conduct their own research. This textbook assumes no underlying knowledge, and aims to be accessible to students of various disciplines.
The text is written clearly, with minimal jargon and abbreviations, and includes extra resources such as timelines and relevant lists.
The book is an essential introductory text for students of the EU, as well as companion for all students continuing further in their studies.
Information
Format: Paperback / softback
Pages: 432 pages, 432 p.
Publisher: Macmillan Education UK
Publication Date: 29/08/2014
Category: EU & European institutions
ISBN: 9781137436443
Also in the The European Union Series series | View all