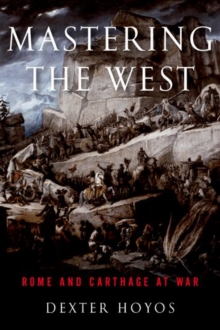 Mastering the West : Rome and Carthage at War
Paperback / softback
Description
To say the Punic Wars (264-146 BC) were a turning-point in world history is a vast understatement.
These vicious battles pitted two flourishing Mediterranean powers against one another, leaving one an unrivaled giant and the other a literal pile of ash.
To later observers, a collision between these civilizations seemed inevitable and yet, to the Romans and Carthaginians at the time, war erupted seemingly out of nowhere and was expected to be a short and trivialskirmish.
Mastering the West offers a superlative narrative of all three wars as they are generally divided, while treating a full range of themes: the antagonists' military, naval, economic, and demographic resources and strategic opportunities; the political structures of both republics; questions of leadership and the contributions of leaders like Hannibal, Fabius the Delayer, Scipio Africanus, Masinissa, and Scipio Aemilianus; and the postwar impact of the conflicts on the participants andvictims.
Dexter Hoyos, a leading expert of the period, treats the two great powers evenly, without forgetting the important roles played by Syracuse, Macedon, and especially Numidia.
Written with verve in a clear, accessible style, with a range of illustrations and newly-commissioned maps, Mastering the Westis sure to restructure our understanding of this critical period in ancient history.
Information
Format:Paperback / softback
Pages:360 pages
Publisher:Oxford University Press Inc
Publication Date:20/07/2017
Category:
ISBN:9780190663452
Also in the Ancient Warfare and Civilization series | View all