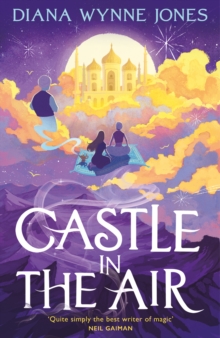 Castle in the Air
Paperback
Description
A magical Arabian Nights tale from the captivating creator of fantasy, Diana Wynne Jones.
The dazzling sequel to Howls Moving Castle, now a major animated film. Far to the south in the Land of Ingary, lives a young carpet merchant called Abdullah.
In his dreams, he is the long-lost son of a great prince.
This dream is a complete castle in the air... or is it? Abdullah's day-dreams suddenly start to come true when he meets the exquisite Flower-in-the-Night, daughter of the ferocious Sultan of Zanzib.
Fate has destined them for each other, but a bad-tempered genie, a hideous djinn, and various villanous bandits have their own ideas.
When Flower-in-the-Night is carried off, Abdullah is determined to rescue her - if he can find her.
Information
Format: Paperback
Pages: 288 pages
Publisher: HarperCollins Publishers
Publication Date: 24/11/2000
Category: Classic
ISBN: 9780006755302
Other Formats
EPUB from £4.99
eAudiobook MP3 from £5.59
Free Home Delivery
on all orders
Pick up orders
from local bookshops
Reviews
Showing 1 - 4 of 4 reviews.
Review by Jitsusama
16/06/2015
I absolutely loved this book! I will say first off, that when I first started to read it I had my reservations as the writing style is quite different from Howl's Moving Castle (which I also adored.) But this turned out to be a good thing!I think what is hanging most people up on this book is the fact that Howl's Moving Castle was told much in the style of a typical European Fairy Tale, while Castle in the Air closely follows the flow and style of an Arabian Fairy Tale. I loved this because I'm a fan of both writing styles and I'm quite impressed at how much Diana Jones is in tune with these writing styles and is able to employ them both with equal ease.While this book isn't some amazing piece of modern literature, it is a very entertaining read, but must be entered into without expectations of calling it a sequel as much as a completely separate work.
Review by TPauSilver
16/06/2015
As many people have said, this isn't really so much a sequel to Howl's moving castle as its own story. The story follows Abdullah, a carpet merchant who's buys a magical carpet and finds himself involved in an adventure. The story telling is enchanting. Adbullah is engaging for both his flaws and his successes. He's incredibly naive and yet he manages to stumble through. A captivating book.
Review by tally1302
16/06/2015
Supposedly the sequel to Howl's Moving Castle, Castle in the Air is a perfect stand alone. Originally when I read it I hadn't even realised the two were related. Imagine my delight and surprise in the last few chapters where characters from Howl's Moving Castle showed up? But yes, it was only in the last few chapters so don't go into this one expecting to see a continuation.In fact, this story is set approximately 3 years after the events of Howl's Moving Castle. It follows the adventure of carpet merchant Abdullah to rescue the princess he loves from an evil Djinn. It deals with the same overall theme of fate and destiny and how one can change it if one is determined enough. It also includes the same delightful magic and character descriptions of Howl's Moving Castle. The magic, however, is based on Eastern lore rather than that of the West - which means magic carpets, djinns and genies. Wynne Jones takes the clichés of all such stories and gives them an original spin.Like Howl's Moving Castle, Castle in the Air is a wonderful family read with strong morals about honour, courage and love. Howl's Moving Castle, however, tops it in my mind when it comes to original ideas and character interaction. Which isn't really saying much. Howl's Moving Castle tops most books for me.
Review by humouress
16/06/2015
Several days to the south of the fairy-tale land of Ingary, as the carpet flies, lies the fabled land of Zanzib, where Abdullah the carpet seller ekes out a living at the edge of the bazaar, and dreams of being a long-lost prince. One day, he buys a rather thread-bare magic carpet, and then his daydreams start coming true! Between the quirky carpet, an unreliable genie in a bottle, a djinn, who might or might not be wicked, not to mention a magical cloud castle in the air, Abdullah has to rescue his beautiful princess and save the world.I was initially surprised to find that this sequel to Howl's Moving Castle didn't start where that book ended - but don't worry; all the beloved characters do feature in this book. As with the first book, the twists at the end caught me by surprise, and turned a good ending into an even happier ending. As ever, the story is well written, engaging and amusing, and clips along at a good pace. I'm glad I succumbed to all the LT recommendations!