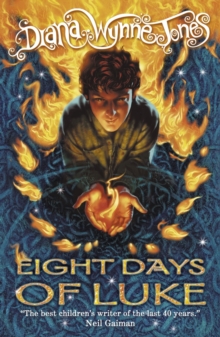 Eight Days of Luke
Paperback
Description
There seemed nothing odd about Luke to begin with - except perhaps the snakes.
If they were snakes, that is... David wasn't sure. "Just kindle a flame and I'll be with you," says Luke.
David thinks he's joking, but certainly, whenever he strikes a match, Luke appears immediately. But David's new friend seems to have some extraordinary friends and relations, and some very dark secrets. And when David enters into a bargain with the mysterious one-eyed Mr Wedding, life gets very hot indeed!
Information
Format: Paperback
Pages: 208 pages
Publisher: HarperCollins Publishers
Publication Date: 01/12/2000
Category: Classic
ISBN: 9780006755210
Free Home Delivery
on all orders
Pick up orders
from local bookshops
Reviews
Showing 1 - 2 of 2 reviews.
Review by wyvernfriend
16/06/2015
David has gone home for the holidays to find himself unexpected and at a loss for what to do. Then one day when he loses his temper Luke turns up, full of jokes, plans and mischief and David finds himself caught up in some serious adventures. I did catch where she was heading with this story fairly early on, and it was a fun trip. A bit of a period piece in places but fairly good and very readable.
Review by shanaqui
16/06/2015
I'm afraid that I can't do this review without being mildly spoilery, but it's okay since everyone else is doing the same -- even though it is, I fear, perhaps not as obvious as I think it is. Anyway, you've had your chance to look away, here's the spoiler: this is based, to some extent, on Norse mythology. And Luke is Loki. That was apparent to me just about straight away, though through the wonders of my new medication I have no idea whether I read about that in the collection of Diana Wynne Jones' essays (yay side effects!). Still, I fear with Myth &amp; Saga, Introduction to Old Norse and Old Norse Literature behind me, it could never have come as a surprise to me.<br/><br/>What did come as a surprise to me was that I was kept guessing a little. I don't think knowing it's based on Norse mythology spoils anything: what would spoil things is knowing what Loki's done wrong this time, the exact identities of everyone in the background, and so on. But with the addition of David to the mix, an ordinary modern-ish boy who plays cricket and has a horrible family, and with the fact that he doesn't know what he's doing half the time, that helps keep things interesting.<br/><br/>(I'm not promising that you won't work out the whole thing ages before I did. I repeat: yay side effects. But as I said, a side effect of being a glutton for punishment and taking Anglo-Saxon and Old Norse is that I'm pretty sharp when it comes to Norse myth. Certain things, like <spoiler>Mr Wednesday = Woden</spoiler> are the no-brainiest of no-brainers for me; I know it like I know that I was born on a Sunday and am therefore bonny and blithe and good and gay, though only because Christians moved the Sabbath to Sunday, otherwise who knows what Sunday's fate would have been. Anyway, I digress.)<br/><br/>It's a quick and undemanding read, and what I always find most refreshing in Diana Wynne Jones' work is that she damn well expects the reader to keep up. Don't know your Norse myths? Not her problem.