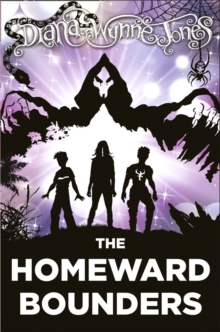 The Homeward Bounders
Paperback
Description
"You are now a discard. We have no further use for you in play. You are free to walk the Bounds, but it will be against the rules for you to enter play in any world.
If you succeed in returning Home, then you may enter play again in the normal manner."When Jamie unwittingly discovers the scary, dark-cloaked Them playing games with human's lives, he is cast out to the boundaries of the worlds.
Only then does he discover that there are a vast number of parallel worlds, all linked by the bounds, and these sinister creatures are using them all as a massive gamesboard.Clinging to Their promise that if he can get Home he is free, he becomes the unwilling Random Factor in an endless game of chance.Irresistible Diana Wynne Jones fantasy adventure, featuring an insect-loving shapeshifter, an apprentice demon hunter and a whole host of exotic characters clinging to the hope that one day they will return Home.
Information
Format: Paperback
Pages: 256 pages
Publisher: HarperCollins Publishers
Publication Date: 06/11/2000
Category: Fantasy
ISBN: 9780006755258
Free Home Delivery
on all orders
Pick up orders
from local bookshops
Reviews
Showing 1 - 1 of 1 reviews.
Review by Capfox
16/06/2015
Diana Wynne Jones is someone I often admire for having a seemingly endless quiver of pretty original ideas. At first glance, this isn't really one of them; the story is driven by the initial idea of there being a race of Them, pairs or groups of whom play games with different worlds, controlling events and manipulating them in vast war games. These worlds, of course, include Earth, but many others as well.I still have to hand it to her for the creativity, though. The main character's a boy who finds out about Them playing on Earth, circa about 1879 or so. They then kick him out of the game, to roam the boundaries of the world, thus having to travel from one to another, and there Jones gets to describe a wide range of societies that are interesting in different ways. Warring societies, party societies, nomadic, religious, scientific... they're all here.Jamie, the main character, provides a sympathetic view of what it is to be dragged from place to place, and how lonely it is. In the end, he does meet up with various others who travel with him, and in the end, attempt to take down the whole system. The secondary characters, beyond the first one introduced, aren't particularly well fleshed out, but they do provide a better focus, and Jones does do fairly well with broad strokes.The book suffers from somewhat poor pacing, and the aforementioned lack of character development, but I still did quite like it. It's ultimately about hope and the lack of it, and personal sacrifice, and Jones does a good job of getting a nuanced view of each into a early young adult book. And, as she often does, she integrates mythological characters (Prometheus, the Wandering Jew, the Flying Dutchman) into the narrative in a way that works. I don't think it's her finest work, but if you're a fan, you're not going to be disappointed, really.