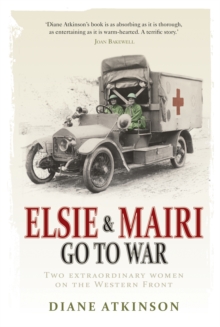 Elsie and Mairi Go to War : Two Extraordinary Women on the Western Front
Paperback
Description
When they met at a motorcycle club in 1912, Elsie Knocker was a thirty year-old motorcycling divorcee dressed in bottle-green Dunhill leathers, and Mairi Chisholm was a brilliant eighteen-year old mechanic, living at home and borrowing tools from her brother.
Little did they know, theirs was to become one of the most extraordinary stories of the First World War. In 1914, they roared off to London 'to do their bit', and within a month they were in the thick of things in Belgium driving ambulances to distant military hospitals.
Frustrated by the number of men dying of shock in the back of their vehicles, they set up their own first-aid post on the front line in the village of Pervyse, near Ypres, risking their lives working under sniper fire and heavy bombardment for months at a time.
As news of their courage and expertise spread, the 'Angels of Pervyse' became celebrities, visited by journalists and photographers as well as royals and VIPs.
Glamorous and influential, they were having the time of their lives, and for four years, Elsie and Mairi and stayed in Pervyse until they were nearly killed by arsenic gas in the spring of 1918.
But returning home and adjusting to peacetime life was to prove even more challenging than the war itself.
Information
Format: Paperback
Pages: 288 pages
Publisher: Cornerstone
Publication Date: 04/02/2010
ISBN: 9781848091351
Free Home Delivery
on all orders
Pick up orders
from local bookshops
Reviews
Showing 1 - 2 of 2 reviews.
Review by kazimiera
16/06/2015
i read the first two chapters of this book but i found that i was just not enjoying it at all it was just a bit too tally ho and jolly hockeysticks for my liking
Review by nigeyb
16/06/2015
The jolly hockey sticks style jarred with me. To an extent the "larks" described in the book, at least in the early stages of World War One, were in keeping with the prevailing mood. It had been a long time since Britain had been involved in a proper war and, with so many people desperate to do their bit, Mairi Chisholm, an 18 year-old upper-class Scottish motorcyclist, and her friend Elsie Knocker, a 30 year old single mother, were no different. Somewhat improbably Elsie and Mairi were recruited by a socialist, vegetarian, idealistic nudist to work in a privately managed ambulance corps. Their lack of medical skills didn't inhibit them, and they spent much of their time handing out patent medicines and mugs of soup and hot chocolate.There are some interesting aspects to this book. The extent to which, in the war's early stages, so much was improvised. And, as I've already hinted, the extent to which the war was exciting and fun for these two women, indeed it seems to have been something of a playground for them. Elsie and Mairi enjoyed playful conversations with German soldiers, and lovely suppers with flowers, chocolate and champagne. Before long Elsie and Mairi became celebrities, collecting medals from Belgian and English dignitaries. At the Battle of Passchendaele, Elsie and Mairi were gassed and finally evacuated, and they returned home. I have read ten books about World War One in the last few months and much of what is described in this book comes over as a completely different conflict. There is a fascinating book to be written about this aspect of World War One, perhaps using Elsie and Mairi's experiences as the springboard for a broader study, however this book felt flippant and lacking in substance. Perfectly readable, but too much like a ripping fun-filled yarn, which is completely inappropriate and demeaning for a story that takes place during World War One with all of its associated suffering and tragedy.