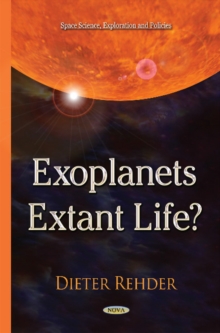 Exoplanets -- Extant Life?
Hardback
Description
By September 2014, almost two thousand exoplanets -- planets orbiting other suns -- have been confirmed, among these are also Earth-like planets in the habitable zone of their sun.
These breakthrough discoveries during the bygone two decades raise questions with regard to the existence of Life elsewhere in our Milky Way Galaxy.
The present book addresses the formation of planetary systems in the wake of collapsing interstellar gas and dust clouds, and the generation as well as the survival and germination of simple molecules serving as modules for more complex molecular constructs that constitute life.
In this context, the survival of extremophiles in niches on Earth, and the potentiality of primitive life forms on Mars and the subsurface oceans of selected moons in the Solar System are also addressed, as much as the through-space travel of germs, denoted as panspermia.
Readers possessing basic knowledge in chemistry and astronomy will additionally profit from the text in terms of an advanced approach towards facts that introduce more complex background information, in particular information provided in sidebars.
However, the book is conceptualized in such a way that the less scholarly reader will equally profit from the narrative style by which background information is provided.
Along with panspermia, the Gaia hypothesis and other historical thematisations of life beyond Earth are briefly looked at.
Information
Format: Hardback
Pages: 140 pages
Publisher: Nova Science Publishers Inc
Publication Date: 01/12/2014
Category: Solar system: the Sun & planets
ISBN: 9781634633017
Free Home Delivery
on all orders
Pick up orders
from local bookshops
Also by Dieter Rehder