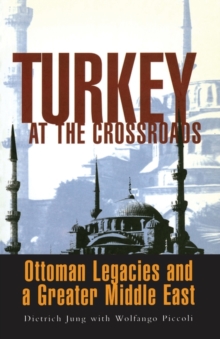 Turkey at the Crossroads : Ottoman Legacies and a Greater Middle East
Paperback / softback
Description
Turkey's future will be shaped fundamentally by the fate of its Kemalist legacy.
A range of ideological currents today - Kurdish nationalists, Islamists, and so-called neo-Ottomanists - are all challenging the received, and still dominant, Kemalist version of the country's history.
This book argues that Turkey cannot meet adequately the challenges and opportunities which its Middle East location offers (both its near neighbours and its more distant Turkic cousins in the newly independent states of Central Asia) so long as its ruling elite and its politically influential military continue to deny the significant continuities between the country's imperial Ottoman past and the Kemalist project of the 20th century. The authors examine Turkey's attempts at modernization, starting with the Ottomans' own reform attempts and accelerating with the Kemalist Republic and the country's growing orientation towards the West since 1945.
They look at the challenge to Kemalism that Islamism and Kurdish nationalism have posed more recently. And they explore the difficulties and possibilities that Turkey faces in its hinterland - its Arab and Persian neighbours, Central Asia, and Israel.
How it plays out its role as a regional actor will, they argue, be decided by the outcome of the profound ideological and political conflicts within the country.
More particularly, Turkey cannot take modernization and democratization further until it faces up to the authoritarian legacy that Ottoman political culture passed on to the Turkish Republic.
Information
Format: Paperback / softback
Pages: 240 pages
Publisher: Zed Books Ltd
Publication Date: 01/10/2001
Category: Asian history
ISBN: 9781856498678
Free Home Delivery
on all orders
Pick up orders
from local bookshops