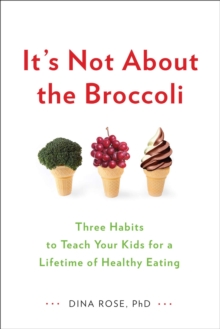 It's Not About the Broccoli : Three Habits to Teach Your Kids for a Lifetime of Healthy Eating
Paperback
Description
You already know how to give your children healthy food, but the hard part is getting them to eat it.
After years of research and working with parents, Dina Rose discovered a powerful truth: when parents focus solely on nutrition, their kids - surprisingly - eat poorly.
But when families shift their emphasis to behaviors - the skills and habits kids are taught - they learn to eat right. Every child can learn to eat well, but only if you show them how to do it.
Dr. Rose describes the three habits - proportion, variety, and moderation - all kids need to learn, and gives you clever, practical ways to teach these food skills. With It's Not About The Broccoli you can teach your children how to eat and give them the skills they need for a lifetime of health and vitality.
Information
Format: Paperback
Pages: 272 pages, black & white illustrations
Publisher: Penguin Putnam Inc
Publication Date: 04/02/2014
Category: Dietetics & nutrition
ISBN: 9780399164187
Free Home Delivery
on all orders
Pick up orders
from local bookshops
Reviews
Showing 1 - 1 of 1 reviews.
Review by AmphipodGirl
16/06/2015
This is a great book about feeding children. I wish I had read it when my girls were just starting solids. <br/><br/>The author's position is that when we emphasize nutrition and try to control our kids' eating, we create stress and, ironically, UNhealthy eating patterns. She advocates not emphasizing nutrition but the teaching of good eating habits, specifically eating a variety of foods, eating foods in proportion to their health benefits (lots of veggies, less ice cream), and eating in moderation -- listening to our hunger, eating when hungry and stopping when not hungry. She gives multiple suggestions for methods to support learning these habits.<br/><br/>Her idea of what constitutes healthy food is sometimes extreme -- she wants a diet of mostly unprocessed natural foods and, while I agree that that is probably good for you, it can be tough to achieve when you're busy. She emphasize dealing with picky eaters more than dealing with overeaters, which is my situation, but she has advice for overeating as well. She places more emphasis on toddlers and preschoolers and starting right than on shaping things up when problematic patterns around food have been established -- one of the reasons I wish I had read this sooner.<br/><br/>If your kids are adventurous eaters and you don't have struggles around food, you probably don't need this book, but I think it's a valuable read for the vast majority of parents who do not have food and feeding going as smoothly as they would like in their households.<br/><br/>her blog, It's Not About Nutrition, is great too.