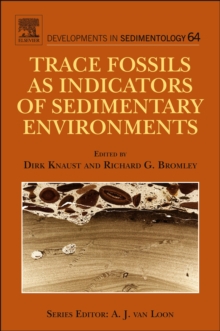 Trace Fossils as Indicators of Sedimentary Environments : Volume 64
Hardback
Description
Integration of ichnological information into sedimentological models, and vice versa, is one of the main means by which we can improve our understanding of ancient depositional environments.
Mainly intended for sedimentologists, this book aims to make ichnological methods as part of facies interpretation more popular, providing an analytical review of the ichnology of all major depositional environments and the use of ichnology in biostratigraphic and sequence stratigraphic analysis. It starts with an introduction to the historical aspect of ichnology, introducing common concepts and methods, and then continues with parts treating the main depositional systems from continental, shallow-marine and deep-marine siliciclastics, and marine carbonates.
The last part is dedicated to the ichnology in hydrocarbon reservoir and aquifer characterization.
Information
Format: Hardback
Pages: 960 pages
Publisher: Elsevier Science & Technology
Publication Date: 07/12/2012
Category: Soil science, sedimentology
ISBN: 9780444538130
Also in the Developments in Sedimentology series | View all