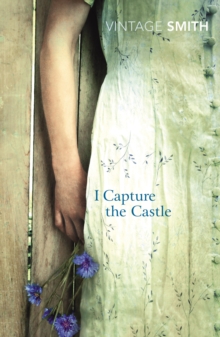 I Capture the Castle
Paperback
Description
I write this sitting in the kitchen sink' is the first line of this timeless, witty and enchanting novel about growing up.
Cassandra Mortmain lives with her bohemian and impoverished family in a crumbling castle in the middle of nowhere.
Her journal records her life with her beautiful, bored sister, Rose, her fadingly glamorous stepmother, Topaz, her little brother Thomas and her eccentric novelist father who suffers from a financially crippling writer's block.
However, all their lives are turned upside down when the American heirs to the castle arrive and Cassandra finds herself falling in love for the first time.
Information
Format: Paperback
Pages: 432 pages
Publisher: Vintage Publishing
Publication Date: 01/01/2004
ISBN: 9780099460879
Other Formats
Paperback from £7.09
CD-Audio from £9.95
EPUB from £3.99
Hardback from £8.35
eAudiobook MP3 from £3.75
Free Home Delivery
on all orders
Pick up orders
from local bookshops
Reviews
Showing 1 - 5 of 8 reviews.
Previous | Next
Review by susan139
16/06/2015
The story of a young woman sitting on a kitchen sink chronicling the life of her family and her loves around her.
Review by wendyrey
16/06/2015
A YA book from the nineteen thirties written from the viewpoint of a teenage girl living in genteel poverty with her bohemian and eccentric family. Well written and a engaging read but more than a bit dated and probably more likely to be enjoyed by the middle aged than young adult except those with a literary bent.Entertaining.
Review by Dora_Yvonne
16/06/2015
A wonderful book that captured me from the begining. Think Anne of Green Gables meets Jane Austen.
Review by eleanor_eader
16/06/2015
I find myself feeling surprisingly ambivalent about this book; there was so much that was enjoyable that I spent the first half determined that I would and did love it. By the second half, I had yielded to my slight disappointment, although the positives were still in place. Cassandra Mortmain is the perfect romantic narrator, more warm-hearted and pragmatic than most teenage writers could be expected to be, with flourishes of wonderful romantic notions. This sets the tone of the book, set in a suitably eccentric crumbling castle, which details the lives and romantic involvements (a game of 'follow-my-leader and second-bests' as Cassandra aptly describes it towards the end) of her family. In particular the two American arrivals and Cassandra's father, the creatively blocked James Mortmain, are whole and lively characters who informed my enjoyment of this book. I have to say, however, that I found the majority of the rest of the characters (with the exception, perhaps, of the Vicar) fell somewhere on the scale between non-entity and abhorrent. Moreover, the histrionic romantic entanglements were difficult to care about, beyond an enormous amount of empathy for Cassandra's own experience of first love. There's a lot of emotional honesty about human relationships, but also a lot of projected feelings about faith and god, and since the serving of the coming-of-age story was via the narrator - the person <i>least</i> in need of a dose of maturity - I can't help but feel that Dodi Smith left the best version of this story behind and took it in the wrong direction.It's a personal antipathy – I know a lot of people who love and recommend this book wholeheartedly, and I was nearly persuaded myself. Maybe if I were a teenage Christian girl, it would have more relevance, but I have found a lot of classic fiction deals with God comfortably (<i>Villette</i> by Charlotte Bronte is a recent favourite of mine) in a far less patronising and invasive manner. Perhaps I shall try reading this again at some point in the future, and see if I've judged it unfairly.
Review by AdonisGuilfoyle
16/06/2015
I have been tempted to read this novel for a while, but should have known from the gushing praise in the introduction by Valerie Grove that such a 'classic' would not satisfy my expectations. Don't mistake me, I found the story perfectly serviceable, and the narrator Cassandra to be enthusiastic and entertaining if not 'charismatic', only I think I came to the party about twenty years too late. Groves bemoans that <i>Castle</i> should be brought out of the 'teenage fiction closet', yet I think Dodie Smith's 1949 novel actually belongs there, on the top shelf, gathering dust. Great fun for those who still enjoy reading Wodehouse, but the eccentric Mortmain family are far too uber-English for me to really connect with. The author was trying to recapture the pre-war England that she had left behind for a life in the States, and her rose-tinted nostalgia shows. Not to mention the final chapters - Cassandra talks about 'brick wall' happy endings in books, and that's exactly what we get (after a lot of pseudo-psycho blather about Mortmain Pere's creative genius).I did like the more realistic characters - Rose, Topaz, Stephen - but Cassandra's purple prose ('the words were as cheap as a sentimental song, so I tore them up' - if only!), the bohemian setting and Austen-esque resolution were altogether too much for me. Not one of my favourites, I'm afraid.