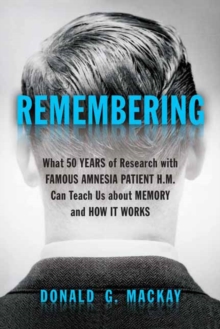 Remembering : What 50 Years of Research with Famous Amnesia Patient H.M. Can Teach Us about Memory and How It Works
Hardback
Description
The psychologist who worked with a famous amnesiac patient for fifty years explains what his studies show about how memory functions and ways to keep the brain sharp. At age twenty-seven, Henry Molaison underwent brain surgery to remedy life-threatening epilepsy.
This operation inadvertently destroyed his hippocampus, the engine in the brain for forming new memories.
Henry--until recently, known only as Patient H.M.--suffered catastrophic memory failures for the rest of his life and he became the most studied amnesia patient in the history of the world.
Dr. Donald MacKay's studies with Henry span fifty years.
They reveal the profound importance of memory. Memory decline impacts everything that makes a normal human mind and brain worth having: creative expression; artistic endeavors; awareness; and the ability to plan, to comprehend, to detect and correct errors, to appreciate humor, to imagine hypothetical situations, and to perceive novelty in the world.
His research also shows how to keep memories sharp at any age and how to offset the degradation that aging and infrequent use inflict on memory.
Remembering summarizes other results of the revolution in scientific understanding of mind and memory that began with Henry.
Importantly, it makes good on the promise that research with Henry would help others by focusing on what readers who wish to maintain the everyday functioning of memory, mind, and brain (their own or others') can learn from the still ongoing revolution that he inspired.
Information
Format: Hardback
Pages: 400 pages
Publisher: Prometheus Books
Publication Date: 29/01/2019
Category: Psychology of ageing
ISBN: 9781633884076
Free Home Delivery
on all orders
Pick up orders
from local bookshops
Also by Donald G. MacKay