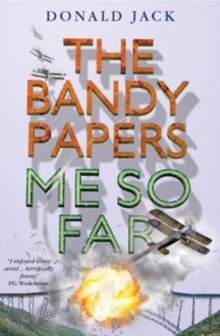 Me So Far
Paperback / softback
Description
So all is pretty cushy for our reluctant hero, ex-WWI ace pilot Bart Bandy. Actually that should read pretty Khooshie, the name of the handsome young prince of Jhamjarh, whose life Bart recently saved.
His reward from the grateful Maharajah is to set up an airforce for the independent state, while living high on the hog in his own personal palace. But it's 1925 and the British authorities are already highly suspicious about the purpose of this new force when Bart, as usual, falls foul of a most important personage, the Viceroy of India no less.
Could end badly. Not nearly as badly as the intentions of the neighboring Indian state of Khaliwar though, as Bart soon discovers - but absolutely no one seems inclined to believe him. With the blackest of black comedy and seat-of-the pants escapades, Donald Jack's series about a young pilot is uniquely funny and compelling. What people are saying about The Bandy Papers:"Reading can lead to involuntary bursts of loud laughter.""Very descriptive, full of air combats and written with a fine eye for period detail . . . there is quite simply no finer book of its kind. Highly recommended.""It is clear that Bandy likely should've been killed several times, but very likely the Grim Reaper was laughing too hard to hold his scythe straight . . .""Hysterically funny! . . . each book is another installment in the continuing saga of a Canadian and his adventures in war, the world, and women.""I have yet to find another author with the wit and humor of Donald Jack."Editorial reviews:"Jack does more than play it for laughs . . . The mingling of humor and horror is like a clown tap-dancing on a coffin, but Jack is skillful enough to get away with it." Time Magazine"Funny.
Very. Donald Jack has as light a touch with this fragile art as his hero has on throttle of a Sopwith Camel.
Excessive corn is avoided in favour of wit and a delight in life." New York Times"Bartholomew Bandy is the most remarkable hero (or anti-hero) since Harold Lloyd impersonated the Freshman." Chicago Tribune"To know Bandy is to love him . . . you tend to gallop through and come hurtling out at the end panting for more." The Sunday Sun"For those to whom Bandy is a newcomer, what a treat is in store." Toronto Star
Information
Format: Paperback / softback
Pages: 320 pages
Publisher: Prelude Books
Publication Date: 22/02/2018
Category: War & combat fiction
ISBN: 9781911440512
Free Home Delivery
on all orders
Pick up orders
from local bookshops
Also in the The Bandy Papers series | View all