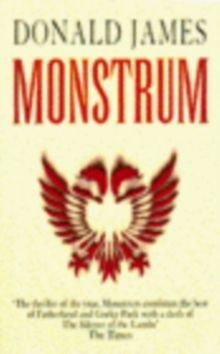 Description
21st-century Russia is beset by civil war. While Vadim's wife is on the run from the secret police and the new military dictator, Koba, Vadim becomes a double for Koba, and is put in charge of Moscow's bloodiest ever murder investigation, that of a series of crimes committed by the Monstrum.
Information
Format: Paperback
Pages: 512 pages
Publisher: Cornerstone
Publication Date: 26/03/1998
Category: Crime & mystery
ISBN: 9780099226321
Free Home Delivery
on all orders
Pick up orders
from local bookshops
Reviews
Showing 1 - 1 of 1 reviews.
Review by alanteder
16/06/2015
The setup here had a lot of promise. A post-civil war Russia is imagined in the year 2015. A Russian Nationalist side has won out over a Russian Anarchist/Communist side. A provincial detective from Murmansk is elevated to a Moscow district murder squad due to his friendship with an ambitious officer of the secret police (still nicknamed the Chekists here, as they have been since the Russian Stalinist era) and not so coincidentally due to his physical resemblance to the current Nationalist Vice-President named Leonid Koba and as it turns out also due to his former wife having been a general in the losing Anarchist Army. The various political gamesmanship plays out while the detective pursues an investigation to find a serial killer known as the Monstrum. By the end though, too many coincidences have been piled on top of too many absurd situations which are only briefly clarified and that just made this reader angrier the longer the book went on. The cover blurb from The Times compared this to Fatherland, Gorky Park and The Silences of the Lambs, but I'd have to say it fell far short of the mark set by those top thrillers. It came closest to Fatherland with having at least a plausible alternate history backdrop painted in. The Russian atmosphere and character building seemed to consist of everybody drinking large quantities of vodka, Gorky Park seemed like much more of a ground-breaker in giving us an entry to some Russian spirit and soul. There was none of the macabre thrill of villains such as Hannibal Lector and Jamie Gumb from Lambs.