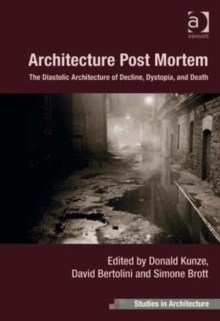 Architecture Post Mortem : The Diastolic Architecture of Decline, Dystopia, and Death
Hardback
Description
Architecture Post Mortem surveys architecture's encounter with death, decline, and ruination following late capitalism.
As the world moves closer to an economic abyss that many perceive to be the death of capital, contraction and crisis are no longer mere phases of normal market fluctuations, but rather the irruption of the unconscious of ideology itself.
Post mortem is that historical moment wherein architecture's symbolic contract with capital is put on stage, naked to all.
Architecture is not irrelevant to fiscal and political contagion as is commonly believed; it is the victim and penetrating analytical agent of the current crisis.
As the very apparatus for modernity's guilt and unfulfilled drives-modernity's debt-architecture is that ideological element that functions as a master signifier of its own destruction, ordering all other signifiers and modes of signification beneath it.
It is under these conditions that architecture theory has retreated to an 'Alamo' of history, a final desert outpost where history has been asked to transcend itself.
For architecture's hoped-for utopia always involves an apocalypse.
This timely collection of essays reformulates architecture's relation to modernity via the operational death-drive: architecture is but a passage between life and death. This collection includes essays by Kazi K. Ashraf, David Bertolini, Simone Brott, Peggy Deamer, Didem Ekici, Paul Emmons, Donald Kunze, Todd McGowan, Gevork Hartoonian, Nadir Lahiji, Erika Naginski, and Dennis Maher.
Information
Format: Hardback
Pages: 266 pages
Publisher: Taylor & Francis Ltd
Publication Date: 30/08/2013
Category: Theory of architecture
ISBN: 9781409462217
Free Home Delivery
on all orders
Pick up orders
from local bookshops