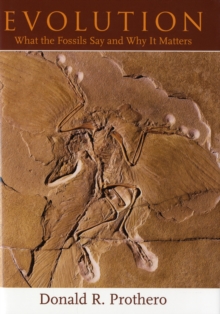 Evolution : What the Fossils Say and Why it Matters
Hardback
Description
Over the past twenty years, paleontologists have made tremendous fossil discoveries, including fossils that mark the growth of whales, manatees, and seals from land mammals and the origins of elephants, horses, and rhinos.
Today there exists an amazing diversity of fossil humans, suggesting we walked upright long before we acquired large brains, and new evidence from molecules that enable scientists to decipher the tree of life as never before. The fossil record is now one of the strongest lines of evidence for evolution.
In this engaging and richly illustrated book, Donald R.
Prothero weaves an entertaining though intellectually rigorous history out of the transitional forms and series that dot the fossil record.
Beginning with a brief discussion of the nature of science and the "monkey business of creationism," Prothero tackles subjects ranging from flood geology and rock dating to neo-Darwinism and macroevolution.
He covers the ingredients of the primordial soup, the effects of communal living, invertebrate transitions, the development of the backbone, the reign of the dinosaurs, the mammalian explosion, and the leap from chimpanzee to human. Prothero pays particular attention to the recent discovery of "missing links" that complete the fossil timeline and details the debate between biologists over the mechanisms driving the evolutionary process. Evolution is an absorbing combination of firsthand observation, scientific discovery, and trenchant analysis.
With the teaching of evolution still an issue, there couldn't be a better moment for a book clarifying the nature and value of fossil evidence.
Widely recognized as a leading expert in his field, Prothero demonstrates that the transformation of life on this planet is far more awe inspiring than the narrow view of extremists.
Information
Format: Hardback
Pages: 408 pages, 208 illus.
Publisher: Columbia University Press
Publication Date: 11/10/2007
Category: Evolution
ISBN: 9780231139625
Other Formats
Hardback from £21.25
EPUB from £25.91
Free Home Delivery
on all orders
Pick up orders
from local bookshops
Reviews
Showing 1 - 3 of 3 reviews.
Review by Atomicmutant
16/06/2015
I've somewhere between 60-100 books covering the subjects of Evolution and Paleontology, and this is the most comprehensive of the bunch. It veers a little into the technical in the middle sections for a casual read, but is always clear and understandable. This is a great book! Prothero also takes a lot of time to explain, with devastating detail, the fact that evolution occurred, in stark contrast to the fairytale claims of creationists. How in the world anyone could read this book, with its wealth of supporting literature, photographic and analytical evidence, and come away with a creationist viewpoint is beyond me. It happened, folks. Get used to it. :) Evolution? The fossils say YES!
Review by psiloiordinary
16/06/2015
A very rare occurrence, five out of five stars.First of all I like all the small unimportant things about it. It's a hardback, and a good quality one, with heavy paper and a lovely cover, and colour plates, and nice margins for scribbling notes, and a thorough index and bibliography (breathe). Best of all of these things it has a comprehensive further reading list at the end of every chapter. Joy.Second and, of course, far more important than all that stuff, this guy knows his stuff, isn't afraid of saying when he doesn't know stuff, or isn't sure about stuff, and he has actually done the science stuff (ok well not all of it).Comprehensive coverage of the politics and religion behind the creationist agenda methods and arguments and a comprehensive take down of why they are wrong. An understanding of what science is and how it works shows us that creationists are 'not even wrong' in the sense that they aren't even doing science. A brief history of the brief history of creationism (it is very modern). A tour of fossilisation, dating, 'flood geology', the grand canyon and quote mining followed by a potted history of the evolution of evolution and a list of the main kinds of evidence supporting evolution as a fact of history (aside from fossils) and a quick summary of the current understanding out how it works..But this is just a warm up for Prothero, next he brings out the oft neglected big guns and gives us a comprehensive overview of some of the main lines of fossil evidence supporting the modern synthesis. Diagrams, photos, anecdotes and of course plenty of places to go next if you want to dig deeper. I'm doing a couple of talks to BHA folks later in the year on creationism in the UK and I have found a few gems to work into my talk somewhere. Wit and wisdom, hard facts and open acknowledgement of what we don't know makes him my kind of author.Buy it.
Review by quantum_flapdoodle
16/06/2015
A detailed look at the fossil record, in an attempt to answer the challenge that there are no transitional fossils, or that the fossils show a pattern other than evolution. The author avoids most of the dense jargon that could make such a book inaccessible to the lay audience it is aimed at; he explains the concepts well, and includes a great many drawings, as well as black-and-white and color photos. The focus is on the Animal kingdom; the transitional fossils in plants and other groups are not included. The book loses half a star for the assumptions it makes on religion; assuming that the creationists are "Christians" and not Christians because their theology differs from what you learned in Sunday School as a child is not legitimate; the sneer quotes suggest that the author is competent to determine what proper Christian belief is. To dismiss the creationists as though they are wrong about their Christian belief is to ignore the reality that Christianity is a multi-faceted belief system, and there appears to be no one right way of being a Christian. Other than that, a good outing.