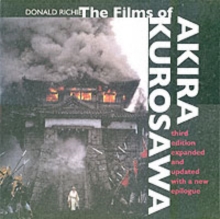 The Films of Akira Kurosawa, Third Edition, Expanded and Updated
Paperback
Description
In an epilogue provided for his incomparable study of Akira Kurosawa (1910-1998), Donald Richie reflects on Kurosawa's life work of thirty feature films and describes his last, unfinished project, a film set in the Edo period to be called The Ocean Was Watching.
Kurosawa remains unchallenged as one of the century's greatest film directors.
Through his long and distinguished career he managed, like very few others in the teeth of a huge and relentless industry, to elevate each of his films to a distinctive level of art.
His Rashomon--one of the best-remembered and most talked-of films in any language--was a revelation when it appeared in 1950 and did much to bring Japanese cinema to the world's attention.
Kurosawa's films display an extraordinary breadth and an astonishing strength, from the philosophic and sexual complexity of Rashomon to the moral dedication of Ikiru, from the naked violence of Seven Samurai to the savage comedy of Yojimbo, from the terror-filled feudalism of Throne of Blood to the piercing wit of Sanjuro.
Information
Format: Paperback
Pages: 280 pages, 189 b/w photographs
Publisher: University of California Press
Publication Date: 20/01/1999
Category: Film theory & criticism
ISBN: 9780520220379
Free Home Delivery
on all orders
Pick up orders
from local bookshops
Reviews
Showing 1 - 1 of 1 reviews.
Review by Meredy
16/06/2015
Six-word review: Great Japanese director's films expertly analyzed.Extended review:After reading Donald Richie's A Hundred Years of Japanese Film, I decided to take a closer look at the life's work of Akira Kurosawa as Richie reveals it. At that time I'd seen only a handful of the films of the man whom many had called Japan's greatest director and some had dubbed the greatest ever. So I put this book on my wish list for Christmas 2013, and my husband came through.I set myself the goal of watching all the remaining films--thirty-one in total--in a year's time, and then reading the analysis of each in turn. Except for seeing the three films I couldn't get from Netflix, I've done it now, before the end of 2014, and that feels like a real achievement. In the process, I've gained a glimmer of understanding of what it was like to live through the wartime years in Japan and how the remnants of traditional culture survived in a radically altered, Westernized postwar society. For the most part, Kurosawa does not express his vision of Japanese life and society directly but through the allegorical use of samurai stories, marginalized antiheroes, and visual symbols.I can't say that I loved all of the movies or even found all of them easy to sit through, but in every one there were compelling characterizations and images that stayed with me and enlarged my perceptions. The themes of hope and redemption persist through most of them and characterize the director's body of work as a whole. While acknowledging masterpieces such as The Seven Samurai, I found myself most affected by Ikiru, the story of a man who discovers at the last minute how to use his experience to give meaning to his life.This is a book for anyone who's interested in Kurosawa, in Japanese cinema--for you can't talk about Japanese cinema without talking about Kurosawa--and in the history of moviemaking in the twentieth century. The influence between Western and Japanese films goes both ways. Richie's insight into Kurosawa the man as well as the films themselves illuminates his interpretation and gives dimensionality to his explication of themes. In particular, Richie's discussion of Kurosawa's use of sound and its integration with image helped me to see the movies with better awareness. I viewed them with English subtitles, knowing only a few words of Japanese but always wanting to hear the actors' own voices.Each film is covered in a separate chapter, from Sanshiro Sugata (1943) to Madadayo (1993), with sections on story, treatment, characterization, production, sound and lighting, and other elements. Some include passages of dialogue, some place the films in a historical and political context, and all discuss them in relation to the director and the sum of his work.This large-format compilation, with double-columned 10" x 10" pages set in 8-point type on heavy coated stock, is about twice as long as the page count implies. Nearly every page features at least one black-and-white photograph. There is a list of plates in the back naming everyone pictured in the photos, as well as a complete filmography listing casts and crews and an index. I expect to continue to use it both as a reference work and as a guide; now that I have a sense of the scope of Kurosawa's work, perhaps I'm ready to begin to see it.