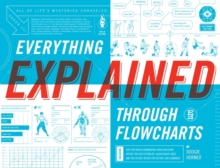 Everything Explained Through Flowcharts : All of Life's Mysteries Unraveled, Including Tips for World Domination, Which Religion Offers the Best Afterlife, Alien Pickup Lines, and the Secret Recipe fo
Paperback
Description
Looking for a badass name for your new heavy metal band?
Try Baby Graveyard, Slikk Kitty, or Heavenshitt. Wondering how to turn a personal tragedy into a killer comedy routine?
Avoid mentioning the Lusitania. "Everything Explained Through Flowcharts" is here to map out the answers to these and other complicated conundrums, with subject matter ranging from profound philosophical queries to light-hearted pop culture and everything in between: how to choose a tattoo that gets the hot barista to notice you without sending secret signals to bisexuals lurking in the alley outside Starbucks; how to discover a designer paint colour that reflects your inner soul while matching your watercolour paintings of seascapes; how to get into Klingon heaven; how to take over the world and look great doing it; and, how to tell if your pet lizard is doing a mating dance or having an epileptic seizure.
Doogie Horner provides page after insane page of endless entertainment and meticulously researched chartography, woven seamlessly with mind-blowing revelations of truth, knowledge, and fun facts about the dangerous raccoon shark.
Information
Format:Paperback
Pages:160 pages
Publisher:HarperCollins Publishers Inc
Publication Date:01/11/2010
Category:
ISBN:9780061826603