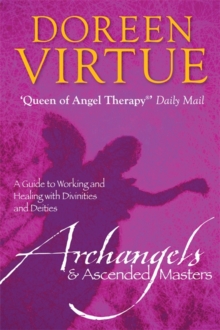 Archangels and Ascended Masters : A Guide to Working and Healing with Divinities and Deities
Paperback
Description
A Guide to Working and Healing with Divinities and Deities.
Archangels and Ascended Masters is a thoroughly researched book in a lively encyclopedia format, listing 77 divinities from Greek, Roman, Egyptian, Asian, Babylonian, Tibetan, Buddhist, Celtic, Theosophical, New Age, Catholic, Cabalistic, Jewish, and Christian roots.
Doreen Virtue carefully studied and wrote about the history of each of the deities, what role they serve today, how they can help us with specific life problems, and how to call upon each one.
Free Home Delivery
on all orders
Pick up orders
from local bookshops
Reviews
Showing 1 - 2 of 2 reviews.
Review by mqueally60817
16/06/2015
An excellent read, it simply needs to be read to be explained and understood. The ideal book for someone who is looking for something more in life.
Review by IonaS
16/06/2015
This book can be regarded as a handbook, guidebook or reference book on the subject og archangels, various divinities and the like.The innumerable archangels, goddesses, gods, ascended masters etc are listed in alphabetical order. A couple of pages of information are given for each being.The author encounters these various beings in diverse nature or power spots around the globe. In each case she provides us with a basic description of the being, including historical or mythical information, then quotes the being's message to her/us, tells us what it helps with, and ends with an example of an invocation we can use to contact it and ask for help.The message from each entiry is full of wisdom and good advice, and one is in no doubt that this message truly comes from a high being. Doreen also provides us with a description of the being's appearance and how it was behaving as it appeared to her.I was struck by the fact that Doreen's description of Ashtar, head of "the Ashtar Command", particularly her information that his mission is to avert nuclear war on Earth, fitted exactly with something I have read in Mike Oram's book "Does it rain in other dimenstions". There we are given the precise wording of a message from a representative of the Ashtar Galactic Command which some years ago was forcibly transmitted via a British TV channel (the TV people found themselves unable to do anything to prevent the transmission). The gist of the message was, as far as I remember, that it was imperative that we do something about our experiments with nuclear energy.I was attracted to many of the beings listed and described by Doreen. Yogananda, for instance, who works with Jesus. He tells us that to contact him (Yogananda) we should meditate while mentally repeating the word "love" and simultaneously holding the intention of contacting him.Many, many fascinating and potentially extremely helpful beings are listed, And one is left in no doubt that these beings DO respond to us when we contact them. (I personally experienced that when I called on Jesus - who is also included in the book - on behalf of another in dire need of help, the condition of this person immediately improved.At the end of the book we are provided with useful prayers to connect with "multiple divinities, for specific needs" - these needs being, for instance, obtaining abundance, help with addictions, obtaining clairvoyant abilities, clear communication with God, connecting with the fairies, etc etc.There is also a list of various headings, under which are stated the names of all those deities that can help with the subject in question.For instance, under "Abundance" are listed Abundantis, Coventina, Damara, Dana, Ganesh, Lakshmi and Sedna.An invaluable book to have by your bedside to use in times of need. I strongly recommend that you buy this book if you have a desire to work with any of these various divinites, or them all!